Pound Strength Masked by Dollar Amid Stealth Rally
Rachel Evans and Eshe Nelson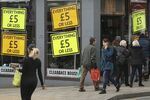 For all the hand-wringing about the pound's drop to the lowest level since 2013 against the dollar, the currency is holding up versus the rest of its peers in a sign of confidence in the U.K. economy.
Sterling has climbed to a 5 1/2-year high against a basket of 10 developed-nation currencies on speculation the Bank of England will be second in line to raise interest rates after the Federal Reserve. Options prices suggest further gains versus six of those counterparts during the next three months.
While Britain -- like much of the world -- is struggling with the effects of slowing inflation, it has one of the fastest-growing developed economies, an improving manufacturing sector and the lowest unemployment rate in more than six years. Policy makers say they're balancing these factors as they consider when to raise the main interest rate from a record-low 0.5 percent.
"We see value in sterling still across the board," Neil Staines, head of trading at ECU Group Plc, a London-based money manager specializing in foreign exchange, said by phone on Jan. 30. "The backdrop is better than the market anticipates, and we are certainly more bullish than consensus."
The pound has rallied more than 5 percent versus Europe's shared currency in the last six months, reaching a seven-year high of 74.05 pence per euro on Jan. 26 and trading at 75.83 as of 12:46 p.m. in New York. It has gained almost 3 percent in the same period to 176.63 yen. Against 10 major currencies, it's only fallen versus the dollar and Swiss franc.
Carney Signals
The pound is forecast to keep making headway against the euro, yen and franc, as well as the Danish, Norwegian, Swedish, Australian and New Zealand currencies through the end of this year, according to forecasts compiled by Bloomberg.
"There's not many places with major G-10 currencies where you can see interest rates going up," Simon Smiles, the Zurich-based chief investment officer for ultra-high-net-worth individuals at UBS Group AG, said in a Jan. 29 interview at Bloomberg's New York office.
Bank of England Governor Mark Carney and his central-bank colleagues have helped fuel the gains by signaling rates may rise sooner than traders predict. Carney sparked the pound's biggest two-day rally versus the dollar in more than a year when he told the World Economic Forum in Davos, Switzerland, on Jan. 24 that the central bank has the ability to "look through" lackluster price growth.
He pointed to more positive economic data, such as wage growth. Unemployment fell to 5.8 percent in November, the lowest since August 2008.
Inflation Report
While money-market traders have pushed back their expectations for rate increases after consumer prices rose a slower-than-anticipated 0.5 percent in December from a year earlier, some strategists are still calling for tighter credit in 2015.
"My view is that the BOE still hikes rates this year, probably toward the end of the year," Steve Barrow, the head of G-10 strategy at Standard Bank Plc in London, said Jan. 26 by phone.
Short-sterling futures prices compiled by Bloomberg show traders are betting the U.K.'s first quarter-point rate increase will come in March 2016. Two months ago, they anticipated a boost by this September.
The pound started falling against the dollar last July, when Carney sought to temper expectations for imminent rising rates. It's tumbled 12 percent since then to $1.5145, and dropped to $1.4952 on Jan. 23, its weakest level since July 2013, when Carney took office.
More Hawkish
UBS's Smiles predicts sterling will still be at or around its current levels in three months' time.
Carney's more hawkish tone now is all the more significant because other major central banks -- from the euro area to Denmark and Canada -- are expanding the money supply or cutting borrowing costs to stoke growth, debasing their currencies in the process.
Only the U.S. has signaled it's preparing to raise rates, which have been in a range of zero to 0.25 percent since 2008.
While U.S. Bank Wealth Management lowered its forecast for the pound against the dollar last month, it's optimistic about the prospects for the currency versus its other peers.
The money manager, which oversees $126 billion, lowered its first-quarter prediction to $1.50 in January, from $1.58 at the end of December, and sees another 2-cent decline to $1.48 by year-end.
"The market may still be a little bit too bearish on the pound and the U.K.," Jennifer Vail, U.S. Bank Wealth Management's Minneapolis-based head of fixed-income research, said by phone on Jan. 27. "The labor-market outlook is certainly more attractive than a lot of the western European countries, so it should outperform their currencies."
Vail said she expects the BOE to raise rates at least once this year.
Before it's here, it's on the Bloomberg Terminal.
LEARN MORE