One Thing Republicans and Democrats Can Agree On: They Love Harper Lee
Members of both political parties have praised Lee's classic novel.
By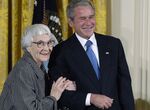 Correction appended.
Book lovers all over the world let out squeals of delight on Tuesday when HarperCollins announced the unbelievable: In July, it will publish a new novel by To Kill a Mockingbird author Harper Lee. But the joy likely reverberated in Washington, from the Senate to the White House, where Lee's Pulitzer Prize-winning 1960 tale of fighting racial injustice in small-town 1930s Alabama is revered on both sides of the aisle.
In an introduction for a 50th anniversary TV broadcast of the 1962 movie adaptation, President Obama said the novel is "an American classic, and it's one of my family's favorites." He also hosted a screening of the film at the White House, where he called it "a real milestone of American culture."
Democratic strategist James Carville, who grew up in a Republican family, even credited the story—which centers on 6-year-old narrator Scout Finch and her father Atticus, a white lawyer who defends an African-American man falsely accused of rape—with his political affiliation. "When I was sixteen I borrowed a copy of To Kill a Mockingbird from the mobile library," Carville wrote in the Washington Post in 2012. "Democrats and Republicans were standing for very different principles, and I could see which side was going to represent me."
But Democrats aren't alone in their praise for the book. President George W. Bush awarded Lee the Presidential Medal of Freedom in 2007. "It's been a gift to the entire world," he said of the novel at the ceremony. "To Kill a Mockingbird has influenced the character of our country for the better."
When asked by Turner Classic Movies to pick a film that had influenced him politically, Utah Senator Orin Hatch chose the Academy Award-winning film version of Lee's novel, according to the Los Angeles Times.
Alabama politicians have been particularly effusive in their praise of the book. Republican Jeff Sessions enthused that it's "one of America's truly great literary works" in a statement accompanying the passage of a Senate resolution commemorating the 50th anniversary of the novel's publication in 2010. The state's senior Senator, Richard Shelby, hailed the novel's "brazen literary depictions of racial inequality in 1930s Alabama" in the same statement. "I have no doubt that To Kill a Mockingbird will continue to be treasured by generations of readers for years to come," Shelby said.
Titled, Go Set a Watchman, the sequel once again takes place in the fictional town of Maycomb, Alabama, though 20 years after the events depicted in To Kill a Mockingbird, a time when the civil rights movement gripped the state and region. 
"Scout (Jean Louise Finch) has returned to Maycomb from New York to visit her father, Atticus," a statement from the publisher reads. "She is forced to grapple with issues both personal and political as she tries to understand her father's attitude toward society, and her own feelings about the place where she was born and spent her childhood."
Correction, February 6: This post originally misidentified which Alabama senator said that To Kill a Mockingbird would be treasured for years to come. It was Richard Shelby, not Jeff Sessions.