Obama Puts Limited Restraints on NSA Spying After Snowden Leaks
Chris Strohm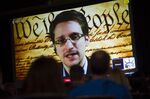 U.S. intelligence agencies will limit the use of information they collect on foreigners, including purging material that isn't relevant to national security after five years, according to the Office of the Director of National Intelligence.
The new measures outlined in a report issued Tuesday are the Obama administration's response to the backlash against National Security Agency spying that was exposed by former U.S. contractor Edward Snowden.
U.S. intelligence agencies have updated their existing policies for collecting and retaining data about Americans and foreigners through electronic surveillance, or what is also known as signals intelligence, according to the report. Data on foreigners is now to be deleted within five years unless the director of national intelligence grants an extension.
"As we continue to face threats from terrorism, proliferation, and cyber-attacks, we must use our intelligence capabilities in a way that optimally protects our national security and supports our foreign policy while keeping the public trust and respecting privacy and civil liberties," Lisa Monaco, assistant to the president for homeland security and counterterrorism, said in a statement.
However, privacy advocates, some lawmakers and other critics have been seeking more severe restraints on the extensive government surveillance programs that intercept phone, Internet and other communications.
Foreign Leaders
The report explains changes that intelligence agencies -- including the NSA, CIA and FBI -- have made to spying in response to a directive President Barack Obama issued in January 2014. The directive followed revelations of NSA spying that heightened tensions between the U.S. and other governments.
A rift developed between the Obama administration and other countries when classified documents leaked by Snowden to the media revealed the U.S. had spied on at least 35 foreign leaders, including the personal phones of German Chancellor Angela Merkel and Brazilian President Dilma Rousseff. Obama is scheduled to host Merkel at the White House next week.
Under the policy changes, the National Security Council will have greater insight into the collection of foreign intelligence in order to address "potential risks to national interests and our law enforcement, intelligence, and diplomatic relationships abroad," according to the report.
"The NSA has enhanced its processes to ensure that targets are regularly reviewed, and those targets that are no longer providing valuable intelligence information in support of these senior policy maker-approved priorities are removed," according to the report.
Bulk Records
The report doesn't substantially alter one of the most controversial domestic spying programs: the NSA's collection and storage of billions of phone records on Americans who aren't suspected of any wrongdoing. The phone records include the time duration and dates of calls, not the content of conversations.
The Obama administration wants AT&T Inc., Verizon Communications Inc. and other carriers to retain the phone records, which would be queried by the NSA and Federal Bureau of Investigation as needed. A committee of academics and industry representatives issued a report on Jan. 15 concluding that there are no technology alternatives that could replace the collection of bulk records.
The administration says Congress must pass legislation compelling the carriers to hold the data, although lawmakers weren't able to reach an agreement on the matter last year.
Terrorist Plots
The U.S. Privacy and Civil Liberties Oversight Board, an independent federal panel nominated by Obama and confirmed by the Senate, issued a report on Jan. 29 saying the collection of bulk phone records hasn't been essential to stopping terrorist plots, and that the administration could end the program at any time without help from Congress.
The FBI also will amend its use of national security letters, which are orders compelling companies to turn over information for investigations. The orders aren't reviewed by a judge and companies haven't been allowed to reveal their existence.
Under the new changes, gag orders on companies will expire after three years, unless senior bureau officials determine they are still justified.
The administration said it also is working with lawmakers to develop legislation allowing some foreigners to sue in U.S. courts over the misuse of their private information.
Before it's here, it's on the Bloomberg Terminal.
LEARN MORE