Malaysia's Next Pressure Point Looms in LNG Risk, BofA Says
Sharon Chen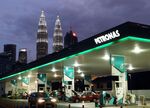 Malaysia's current account surplus will probably narrow as liquefied natural gas prices drop, according to Bank of America Merrill Lynch, adding a new risk to the nation's weakening economic outlook.
LNG prices may be down 50 percent by the middle of this year from last June, as they track oil with a lag of four to six months, according to Singapore-based Bank of America economist Chua Hak Bin. Such a decline would probably reduce Malaysia's current account surplus by about 2.5 percent to 3 percent of gross domestic product, he wrote in a report Tuesday.
"Collapsing LNG prices will likely be the next pressure point," Chua said. "Malaysia may be a small net oil exporter but the net gas trade surplus is huge" at 58.9 billion ringgit ($16 billion), or 6 percent of GDP in 2013, he said.
Crude prices at about half the level of a year ago have forced oil-producing Malaysia to cut government expenditure as Prime Minister Najib Razak said last month growth in 2015 may be slower than initially estimated. The currency has fallen more than 11 percent against the U.S. dollar in the past six months, the second-worst performer among 11 most-traded Asian currencies tracked by Bloomberg.
Malaysia's current-account surplus shrank to 7.6 billion ringgit in the third quarter, the smallest in more than a year. A 10 percent decline in LNG prices will worsen the current account by about 0.5 percent of GDP while a 10 percent drop in oil prices will only hurt the current account by 0.1 of GDP, according to Chua.
The Southeast Asian nation is forecast to grow 4.5 percent to 5.5 percent this year from an earlier projection of as much as 6 percent, Najib said. The budget gap will be 3.2 percent of GDP, bigger than an October target of 3 percent, he said.
Before it's here, it's on the Bloomberg Terminal.
LEARN MORE