It's a Monet Flash Sale as Five May Fetch $105 Million in London
James Tarmy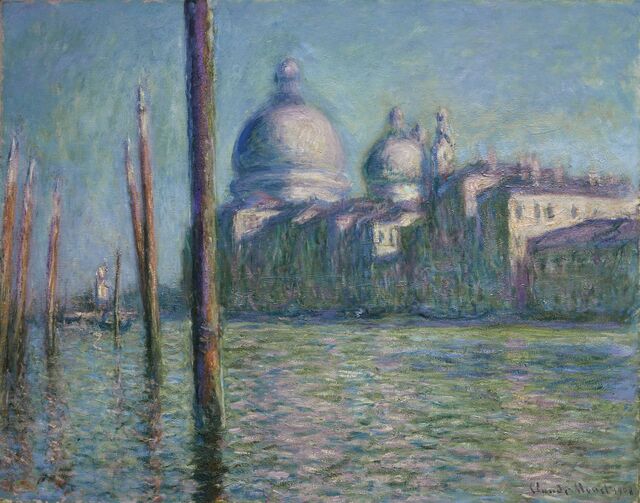 Monet's light-dappled landscapes are having a day in the sun.
Sotheby's is set to auction five paintings by Claude Monet with a combined estimate of as much as 70 million pounds ($105 million) on Tuesday in London. As two weeks of sales begin in the U.K.'s capital, top Impressionist works on offer may attract a broad group of collectors.
"The market is very, very strong for high quality, classic works of art," said Mary Hoeveler, a New York art adviser. "The market is as good as it's going to be in the near future, and that's why you're seeing all of this great material."
Last year, $16.1 billion worth of art was auctioned, the second highest record, according to New York-based researcher Artnet. The growing ranks of the wealthy in emerging markets has created new collectors who are increasingly vying for Impressionist and modern works in addition to postwar and contemporary art.
At its evening Impressionist and modern art sale Tuesday, New York-based Sotheby's said it expects to sell 124.2 million pounds of works by artists including Henri Matisse, Edgar Degas and August Rodin.
Christie's, which is based in London, has a high estimate of 80.3 million pounds for its Feb. 4 evening sale of the same category. Sotheby's, Christie's and Phillips estimate that as much as 738.5 million pounds of art will be auctioned through next week, which includes postwar and contemporary sales.
In Demand
Monet has always been in demand. His 1906 "Nympheas," inspired by the lily pond in his garden at Giverny in France, fetched 31.7 million pounds in June in London, the second-highest price for a Monet at auction. The artist's record is $80.4 million, set in June 2008 at Christie's. Auctions of Monet's work in 2014 totaled $252 million, according to Artnet.
Impressionist art is enjoying a renewed interest -- the likes of which it hasn't seen in more than 20 years, when the category was the most expensive at auction. In 1990, Japanese businessman Ryoei Saito's purchase of Vincent Van Gogh's "Portrait of Dr. Gachet" for $82.5 million at Christie's in New York was a world record at the time.
The Impressionist market sank during the recession and it took time to recover. "The mid-1990s was a desolate time," Hoeveler said. "Nothing was really selling at that point."
The tide has changed. Sotheby's said it sold $1.4 billion of works in the group in 2014, up 26.7 percent from 2013. In November, Sotheby's auctioned a record $422.1 million of Impressionist and modern art in New York.
Venice View
On Tuesday, leading Sotheby's quintet of Monets is "Le Grand Canal," which had been on view at the National Gallery in London. Estimated at 20 million pounds to 30 million pounds, the 1908 painting is a view of Venice, Italy, with gondola moorings and pastel blue and green water.
"Les Peupliers a Giverny," an 1887 painting of poplar trees being sold by New York's Museum of Modern Art, is estimated at 9 million pounds to 12 million pounds.
"L'Embarcadere," an 1871 work depicting a group of leisure seekers along a canal in Holland, is valued at 7.5 million pounds to 10 million pounds. "Antibes Vue de la Salis," a morning view of southern France's Riviera, is on offer for 5 million pounds to 7 million pounds. A still life of peonies in a vase is estimated at 1.2 million pounds to 1.8 million pounds.
New Buyers
Sotheby's has aggressively courted Asian collectors.
"We've seen an influx of new buyers coming in from Asia and across the world," said Helena Newman, chairwoman of Impressionist and modern art at Sotheby's in Europe. "That's what's driving the market, and that's the phenomenon we've seen in the last three years."
While Newman declined to give the demographics of collectors who are registered to bid this week, the trail of where Sotheby's has previewed the Monets -- Taipei, Hong Kong and New York -- provides insight into the target market.
"That is an indication of where we think the interest is coming from," she said.
Christie's has its own lineup of blue-chip Impressionist and modern works. Leading the Feb. 4 sale is a landscape by Paul Cezanne, valued at 8 million pounds to 12 million pounds. The painting was purchased in 1936 by Samuel Courtauld, founder of the Courtauld Institute of Art and has stayed in the family until now.
Setting Records
The other two top lots at Christie's evening sale are by artists who had record auction prices in recent years.
A painting by Amedeo Modigliani, "Les Deux Filles," is estimated at 6 million pounds to 8 million pounds. It was last at auction at Christie's in London in 2009, when it sold for 6.5 million pounds.
Modigliani's prices have soared -- his sculpture of a woman's head sold for $70.7 million at Sotheby's in New York in November. In 2010, an artist auction record was set when his painting "Nu Assis Sur Un Divan" sold for almost $69 million at Sotheby's in New York.
Christie's is also auctioning a sculpture by Alberto Giacometti, whose $104.3 million "L'Homme Qui Marche I" set a record for the category at auction in 2010. The current piece, "Femme de Venise V," depicting an emaciated figure in bronze, is estimated at 6 million pounds to 8 million pounds.
Christie's is also selling a Monet. "Paysage a Villez," a view of poplar trees on a river bank, is estimated at 750,000 pounds to 1 million pounds.
Before it's here, it's on the Bloomberg Terminal.
LEARN MORE