business
Career Stress Skyrockets in High School
Young people lose confidence in their employment prospects as they age. That pessimism could be sinking their future
By and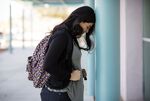 Grade school students become more pessimistic about graduating with a job as they get older, and girls are especially likely to lose confidence in their prospects, according to a Gallup poll released Tuesday. Over two-thirds of students in the 5th grade said they strongly believe they will land a promising gig after graduating, but that share declined to 48 percent for students in their senior year of high school. The drop was even steeper for girls: Seven in 10 had high hopes for employment in 5th grade, compared to just 46 percent in 12th grade. Gallup interviewed over 800,000 public school students in 48 states. 

"If our school system's goal is to make kids college and career ready, and we think of them being our future, we obviously have to do better, because their confidence goes down every year," says Brandon Busteed, executive director of Gallup Education. Busteed says part of the problem is that high schools aren't doing much to prepare young people for life in the office. A 2012 Gallup survey showed that just 7 percent of students in grades 5 through 12 had internships. 
"There's very little about the overall school experience that is connecting young people in a meaningful way to work experience."
It matters that teenagers feel negative about their economic future, not only because we might hope to shield them from that kind of unhappiness, but because that melancholy could hold them back long after high school. An additional Gallup poll from 2009 showed that the level of hope among students from 5th grade to 12th grade was a stronger predictor of achievement in college than their grade point average or standardized test scores.  
Before it's here, it's on the Bloomberg Terminal.
LEARN MORE