Google Senior Executive Alan Eustace Leaving After 13 Years
Brian Womack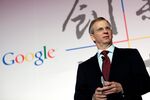 Google Inc. executive Alan Eustace, after working on projects at the Web company including search and maps, is retiring following a management shuffle last year.
Eustace, who joined Google in 2002 and holds the title of senior vice president of knowledge, is set to leave in March, the Mountain View, California-based company said in an e-mailed statement. The company's online search continues to be led by Amit Singhal, another senior vice president.
Google, which is looking for ways to attract users and expand sales growth, has undergone several high-level management changes in the past year. In October, Chief Executive Officer Larry Page handed more responsibilities around products to top lieutenant Sundar Pichai. As part of the change, Eustace and Singhal began reporting to Pichai instead of Page.
Andy Rubin, who oversaw the development of Android software for smartphones and had been working on robotics, also left Google last year to form an incubator.
Technology blog TechCrunch reported on Eustace's retirement earlier Tuesday.