Germany's Yield Below Japan 1st Time Bodes Ill for Europe
Eshe Nelson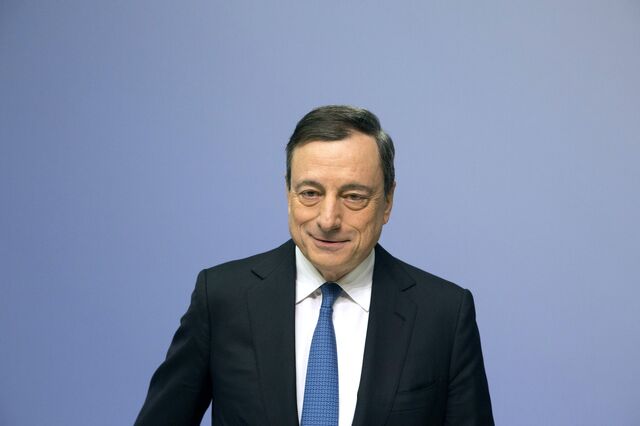 For the first time on record, Germany's 10-year yields are below Japan's, an ominous signal for European Central Bank President Mario Draghi as he seeks to revive the euro area's economy.
Tumbling rates on German debt, the euro area's benchmark sovereign securities, are inviting comparisons with Japan, a nation wracked by decades of zero nominal economic growth and falling consumer prices. Germany's inflation rate turned negative in January for the first time in more than five years, while the ECB is preparing to pump more cash into the region's economy via a quantitative-easing program to fend off the risk of deflation.
"It doesn't provide much in the way of reassurance in terms of the market's take on the ECB's ability to reflate the economy via its imminent foray into QE," said Richard McGuire, head of European rates strategy at Rabobank International in London. "Japanification of Europe is quite a familiar theme. The market is of the view that the disinflationary forces currently gripping Europe are by no means transitory."
A surge in the price of German bunds pushed down 10-year yields by more than 130 basis points, or 1.3 percentage points, in the past year, leaving the rate at 0.35 percent as of 5 p.m. London time. Equivalent Japanese yields, which haven't been above 1 percent since April 2012, jumped to 0.355 percent in Tokyo as bonds fell amid the weakest demand at an auction of the Asian nation's benchmark debt since July 2013.
Inflation Outlook
Since Japan's real-estate and stock-market bubble burst in the early 1990s, companies have focused on cutting debt and shifting manufacturing overseas. Wages stagnated and consumers reined in spending. That led to two decades with no nominal growth in the economy. Prices of goods kept falling, creating deflation that sapped optimism.
The risk is that the same pattern is repeated in Europe. Investors are already mopping up German securities as inflation slows in the euro area, preserving the purchasing power of the fixed payments on bonds.
The annual inflation rate in the region fell to minus 0.6 percent in January, matching the biggest decline in prices in the history of the single currency, according to data published by Eurostat. And the outlook for euro-area inflation in the second half of the decade, based on the five-year, five-year forward inflation-swap rate, dropped as low as 1.48 percent on Jan. 14, a record. It was at 1.63 percent on Tuesday. The ECB targets consumer-price growth of just below 2 percent.
QE Too
Adding to similarities between the euro area and Japan, and helping to fuel demand for bunds, the ECB is set to start a 1.1 trillion-euro ($1.3 trillion) stimulus program centered on government-bond purchases in March.
The BOJ is buying as much as 12 trillion yen ($102 billion) of JGBs each month, which is more than 90 percent of debt offered to investors, in an effort to spur growth and boost inflation expectations. The central bank has said it will keep this stance until a 2 percent inflation target is achieved.
"If you look at economic fundamentals there are reasons why bond yields have been so low and will remain low," said David Tan, London-based head of rates at JPMorgan Asset Management, which oversees $1.7 trillion. "Central banks globally will continue to suppress bond yields. The inflation outlook has changed quite dramatically."
Two-Year Negatives
German two-year yields fell to minus 0.201 percent on Tuesday, below the ECB's deposit rate of minus 0.2 percent. Yields on German bonds with maturities through six years are negative, while the two-year rates on the debt of Finland, Austria, Belgium, France and the Netherlands are also below zero.
"In Europe, the starting point is really the ECB's negative depo rate, which has altered the rules," JPMorgan's Tan said. "It's no longer inconceivable or unusual for bonds to trade with a negative yield -- the dynamics have changed for the medium term."
German bunds have also been supported this year as political turmoil in Greece boosted demand for safer assets. The new government is seeking to renegotiate its debt burden.
Gains were pared today after Greek Finance Minister Yanis Varoufakis outlined plans to swap some debt owned by the ECB and the European Financial Stability Facility for new securities. Varoufakis indicated that the move would allow Greece to avoid imposing a formal reduction in the amount owed to creditors, according to a person who attended the meeting and asked not to be identified because they weren't authorized to speak publicly.
The decline in the Japan's 10-year government bonds on Tuesday was the biggest in 20 months as demand at an auction for the debt fell. The 2.4 trillion-yen sale had a bid-to-cover ratio of 2.68, down from 3.42 last month. The measure, a gauge of demand, averaged 3.7 for the past 10 offerings.
German securities returned 2.3 percent this year through Feb. 2, according to Bloomberg's World Bond Indexes. Japan's were little changed in the same period, the indexes show.
Before it's here, it's on the Bloomberg Terminal.
LEARN MORE