Flu Shot May Be Upended as U.S. Tests Universal Vaccine
Anna Edney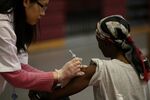 A universal influenza vaccine will be tested by U.S. researchers for the first time on people, a significant step toward ending the cumbersome method of developing a new flu shot every year to keep up with emerging strains of the virus.
The universal vaccine has been shown effective in animal testing, and federal agencies plan to start the first of three phases of human testing in 2016, Anthony Fauci, director of the National Institute of Allergy and Infectious Diseases, said in a House Energy and Commerce Committee oversight panel hearing Tuesday. Scientists have tested a universal flu vaccine in combination with a seasonal vaccine booster in early-stage human trials, Fauci said.
NIAID will work with the Biomedical Advanced Research and Development Authority, the agency assigned with developing and purchasing medical countermeasures for public health emergencies, to test the stand-alone universal vaccine.
Lawmakers called health officials to Capitol Hill to discuss this season's flu vaccine after the shot was found to be only 23 percent effective. A lengthy seasonal vaccine-manufacturing process, which includes growing the virus in eggs or cell lines, forces health officials to pick the strains to include eight months before flu season begins. This year, the strains didn't behave the way officials forecast, rendering the vaccine less effective.
Broad Protection
The vaccine could produce "broad protection against subsequent exposures," Fauci said. A universal flu vaccine would target the stems of the virus that researchers have discovered don't change as much as the components that are the focus of the seasonal vaccines.
The National Institutes of Health envisions a vaccine that could protect people from all strains of the virus for decades, the agency said during animal testing in 2010.
Others have been getting closer to human trials of the vaccines as well. Researchers at McMaster University and the Icahn School of Medicine at Mount Sinai in New York City, published a paper last month in the Journal of Virology on a universal vaccine candidate that the NIH funded.
Matthew Miller, the lead author on the paper and an assistant professor in McMaster's Michael G. DeGroote School of Medicine in Ontario, Canada, predicted a universal flu vaccine would be available in five to seven years.
Fauci said the vaccine candidate will eventually need to be tested against a seasonal shot over multiple flu seasons to ensure it's universally effective.
"That's going to take years," he said.
Before it's here, it's on the Bloomberg Terminal.
LEARN MORE