Five Questions About Amazon Prime That Jeff Bezos Still Won't Answer
Delivery drones are far from the only mystery about Amazon Prime. There are virtually no concrete numbers about the service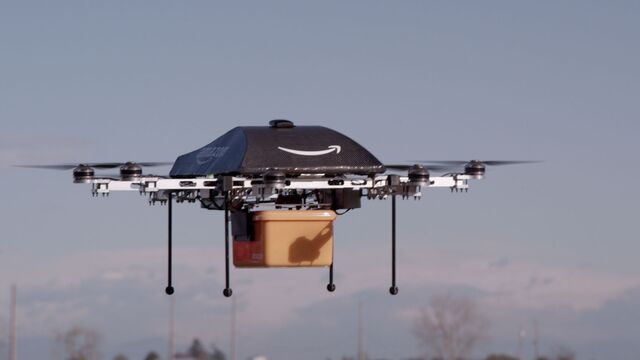 Source: Amazon.com Inc. via Bloomberg
It has been exactly a decade since Jeff Bezos first mentioned Amazon Prime during a conference call with investors. At the time, the Amazon chief executive officer described it as a very simple service offering customers "'all-you-can-eat express shipping." Since its 2004 introduction, Amazon Prime has expanded to become a complicated package: For $99, a price 25 percent higher than at launch to account for inflation,, customers get streaming video and original programing such as Transparent, access to an e-book lending library, a digital music service, and online photo storage. And, yes, faster shipping on many items sold by Amazon.com.
The company celebrated Prime's 10th birthday by posting an infographic. The data have been cleverly selected to impress without revealing much about the business. Did you know that Amazon delivered 221 different types of toothbrushes last year with its same-day service? Prime members could order 856 items every day for the rest of their lives and still not receive everything offered through the service—just think about that. And get this: Amazon Prime members really enjoy watching Downton Abbey. 
Beyond this sort of trivia, however, Amazon has never bothered to supply simple answers to some basic questions that would make it possible to understand how well Prime is working. Here are a few of them:
1. How Many Amazon Prime Members Are There, Exactly?
Amazon never directly declares how many people use Prime, referring only to "tens of millions of members" and a 50 percent increase in U.S. membership over the last year. These vague benchmarks follow a holiday season in which Amazon said that 10 million new members tried Prime, which sounds great but also includes free trials, shared memberships, and other freebies.
Tens of thousands of people signed up on Prime's first day, Greg Greeley, vice president of Amazon Prime Global, told the Washington Post. Four out of five of those initial members are still active and using their original accounts. 
None of this answers the basic question, leaving observers to take best guesses. Colin Sebastian, an analyst at Robert W. Baird, wrote in a note to clients in December that there are probably more than 30 million Prime members. Consumer Intelligence Research Partners puts the number at 40 million customers in the U.S. alone, accounting for 45 percent of all Amazon.com customers. 
 2. What Are the Viewership Numbers for Prime Video?
Amazon's Prime Video service is having a moment. It just won two Golden Globes, signed up Woody Allen for a new show, and will soon start making its own movies. Will this lure new Prime subscribers? Probably. But it will be impossible for outsiders to know because Amazon doesn't reveal much about how many people are using its video service. About 40 percent of Prime subscribers don't use the video option at all, according to a survey last summer by Bernstein Research, and very few see video as the foremost reason to pay for the service.
It's not just Amazon. Netflix also stays quiet about what its users watch, irking studios that are used to getting rating numbers from television networks. The streaming companies clearly want to keep this information to themselves. When an outside company figured out how to divine some information about the audience for House of Cards, Netflix changed its technology to prevent onlookers from keeping track. 
Some of the mystery may lift soon: Nielsen Media said in November that it would start measuring viewership for the streaming companies. The numbers won't directly be made public, but clients that pay for Nielsen's services will get a look. 
3. Do People Use Amazon Prime's Lending Library and Music Catalog?
There's all kinds of stuff going on in Prime, including a music service and book rentals, and Amazon has said virtually nothing about how any of this is used. Amazon did reveal a tantalizing factoid about its music service to mark Tuesday's anniversary: The most popular song is Timber by Pitbull and Kesha. 
4. How Much More Money Do Prime Members Spend?
Prime is an expensive service for Amazon, which loses revenue by offering free shipping and unlimited streaming video. Acquiring the rights to movies and TV shows isn't cheap. The point of it this bounty is to entice customers to buy more stuff from Amazon.com. The company says this does happen—without giving details.
RBC Markets surveyed Amazon users last summer and found that Prime members spend 68 percent more than non-Prime members do. This is at least, in part, because heavy spenders tend to become Prime members, but it doesn't necessarily follow that joining makes shoppers spend more. Thirty-nine percent of Prime subscribers claimed no increase in their spending after they joined Prime. 
5. How Many Prime Drone Deliveries Will Be Made in the Next 10 Years? 
At least a few, one hopes.
(Corrections: An earlier version of this article misstated the percent of Amazon Prime subscribers who don't use its video offerings, according to a survey.)
Before it's here, it's on the Bloomberg Terminal.
LEARN MORE