Ulbricht 'Obsessed' With Silk Road, U.S. Says at Trial's End
Bob Van Voris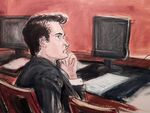 Ross Ulbricht was obsessed with the power and money he amassed as "Dread Pirate Roberts," the mastermind behind the illicit Silk Road website, a U.S. prosecutor told jurors at the end of Ulbricht's conspiracy and drug-trafficking trial.
"It was his secret livelihood," Assistant U.S. Attorney Serrin Turner told a Manhattan jury on Tuesday. "It was his passion. He built it. He grew it. He operated it from top to bottom."
The government claims Ulbricht, 30, started Silk Road in 2011 and ran it until his arrest in 2013. In that time more than 100,000 site users paid $213 million in bitcoins to buy drugs and other illegal items anonymously from vendors located around the globe, Turner said.
Turner argued that the U.S. presented the jury with a wealth of evidence tying Ulbricht, the neatly dressed, former Eagle Scout at the defense table, to Dread Pirate Roberts, the online identity of a website operator who alternated between fixing server glitches and ordering murders as he ran the most infamous drug site on the so-called dark net.
Ulbricht faces as long as life in prison if convicted. Jurors will begin considering the case Wednesday.
'Mr. Ulbricht'
"The Internet is not what it seems," Ulbricht's lawyer, Joshua Dratel, told the jury of six women and six men in his closing argument. "DPR and Mr. Ulbricht cannot be the same person."
He has said Ulbricht started Silk Road as an "economic experiment" and passed the site to others within a few months. Dratel also claimed Ulbricht was set up as a "fall guy" by Mark Karpeles, the former head of the bankrupt Mt. Gox Co. bitcoin exchange. Dratel claimed Karpeles was the true mastermind behind Silk Road.
Karpeles, who lives in Japan, has denied involvement with Silk Road. He hasn't been charged.
Much of the government's evidence was recovered from the silver Samsung 700Z laptop computer that Ulbricht was using when he was arrested. Jurors heard testimony that Ulbricht was logged in as Dread Pirate Roberts and communicating with a U.S. agent working as an undercover Silk Road employee at the moment of his arrest, in a San Francisco library near his home.
Laptop Files
Prosecutors showed the jury files taken from the laptop, including Silk Road maintenance logs, to-do lists, weekly reports, accounting entries and a computer journal detailing the beginnings and growth of Silk Road.
Turner also told jurors that Ulbricht tried to order the killing of five people who threatened Silk Road's security. Both sides agreed no murders were actually carried out.
"Thank goodness that this man's power trip was stopped before he managed to connect with a real hit man," Turner said.
Turner said Ulbricht used the name "Dread Pirate Roberts," taken from a series of pirate captains who passed the title from one to another in the film "The Princess Bride," to deflect suspicion from him.
'A Con'
"It's a con," he said. "It's a bogus cover story to indicate to people there's some kind of rotating command of the site."
In addition to the computer evidence, prosecutors presented testimony of a friend of Ulbricht who said he helped him with programming on the site in 2011. Richard Bates testified that Ulbricht told him he created and ran Silk Road.
In the defense closing, Dratel argued that the government's evidence was planted on Ulbricht's laptop by the real DPR. He said Ulbricht was "lured back in" to work on Silk Road, shortly before his arrest, to make him look guilty.
"There's a lot of blinking neon keys that have been created in this case to implicate Mr. Ulbricht," Dratel said.
Security Practices
Dratel frequently contrasted his client's failure to use online security practices with the behavior of Silk Road's anonymity-obsessed DPR, even at a time when DPR was aware the government was investigating Silk Road. He pointed to the extensive online chats the prosecution showed jurors during the trial.
"Saving those chats. Does that sound like DPR?" he asked. "It's a little too convenient."
Dratel said the value of bitcoins rose from $100 to $1,000 after Ulbricht's arrest, benefiting Karpeles. He said the government was under pressure to make an arrest in the Silk Road case and rushed to charge the wrong person.
Dratel told jurors it's impossible to determine the real identities of the people behind the thousands of Silk Road user IDs. He said it would have been easy for someone controlling Ulbricht's computer to add details to web chats and other documents falsely implicating him as DPR.
'Reasonable Doubt'
"The kind of evidence we've seen here cannot be trusted beyond a reasonable doubt," he said.
Dratel cited the testimony by Bates, the computer programmer, that Ulbricht told him in November 2011 that he had sold Silk Road.
Dratel also pointed to testimony of several character witnesses who testified about Ulbricht's "reputation for peacefulness and non-violence." Ulbricht couldn't have ordered murders, he said.
The case is U.S. v. Ulbricht, 14-cr-00068, U.S. District Court, Southern District of New York (Manhattan).