Congressman With Downton-Inspired Office Is an Instagram Star
Representative Aaron Schock always manages to have good time, even on trips to Jackson Hole when he's "making the most of no heli."
By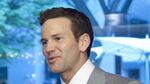 Photos of Representative Aaron Schock's office, modeled after the dining room from Downton Abbey, caused a PR meltdown that was just chronicled in the Washington Post.
Reporter Ben Terris quoted the Illinois Republican's spokesman, Benjamin Cole, calling him during a tour to say: "Are you taking pictures of the office? ... Who told you you could do that? ... OK, stay where you are. You've created a bit of a crisis in the office."
But Schock isn't totally averse to publicity. His Instagram feed, profiled by the New York Times last year, is a showcase for his globe-trotting adventures (including a holiday trip to Argentina). Here are some less panic-inducing snapshots from the life and times of Aaron Schock.
A foray around the Mediterranean, starting with a razor shave: 
A breakfast on a picturesque porch in Greece:
Taking in the view:
Window-shopping in Nice:
The "ultimate luxury" of a freshly pressed tablecloth in Monaco:
A ski trip out west:
Managing to have a good time when heli-skiing isn't an option:
CORRECTION: An earlier version of this story incorrectly identified the location of the second photo. It was Greece, according to Schock's Instagram account.