Canada Police Charge Three Ottawa Men With Terrorism Conspiracy
Greg Quinn and Alexandria Arnold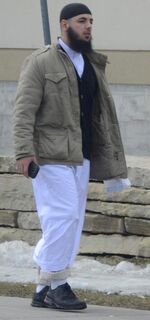 Canadian police charged three Ottawa men with being involved in a terrorist conspiracy, and said two of the men have already left the country.
Royal Canadian Mounted Police said Awso Peshdary, a 25-year-old from Ottawa, was arrested and charged with participating in a terror group and facilitating such a group.
The RCMP also filed charges in absentia against Khadar Khalib, 23, and John Maguire, 24. Peshdary "provided financial support to facilitate travel to Syria to join ISIS," James Malizia, RCMP assistant commissioner, said at a press conference in Ottawa today. Maguire and Khalib "traveled abroad to become members of ISIS."
Police said they can't confirm reports Maguire was killed in Syria after becoming a member of the Islamic State Sunni Muslim militant group.
"There are individuals in Canada who have become radicalized to violence and who are willing to act upon it," Malizia said. "Canada is not immune, either as a victim, or as a source for terrorism."
Canada was struck in October with two attacks by native-born citizens who had become radicalized. One attack included a rifle assault on the national Parliament in Ottawa. Prime Minister Stephen Harper said last week Canada is under threat from "jihadism" and his government has introduced tougher anti-terror legislation.
Harper has authorized military air strikes against Islamic State fighters. The group in turn has called for attacks on Canada, according to newspaper reports.
Before it's here, it's on the Bloomberg Terminal.
LEARN MORE