Botin Moves Away From Father's Dealmaking With Customer Pledge
Macarena Munoz and Charles Penty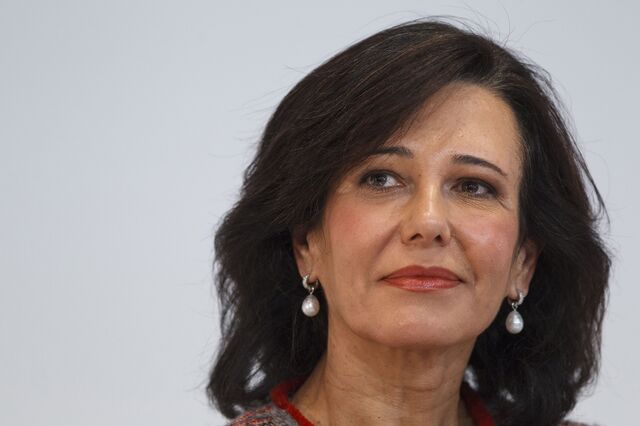 For Banco Santander Chairman Ana Botin, big isn't necessarily best.
Marking a shift from her father's strategy that built on more than a decade of dealmaking frenzy, Botin, who replaced the late Emilio five months ago, is betting on boosting profit not by buying and selling businesses but by winning over customers.
As she makes expanding credit the key to growth for the euro-zone's biggest bank, she says she'd be willing to link her own bonus to customer satisfaction.
"Earning the loyalty of our customers will be our top priority and the base of our strategy," Botin, 54, said on a webcast for analysts as she presented her first annual earnings. "The best bank is not necessarily the largest," she said, using the word "loyalty" a dozen times during her presentation.
Botin is trying to steer the lender into a new era following the death of her father, who made more than $70 billion of acquisitions. The stress on customer relationships is a reaction to a world of tighter banking regulation even if it sounds surprising coming from the head of one of Europe's most acquisitive banks, said Peter Hahn, a lecturer at Cass Business School in London.
2013 Bonus
"It's becoming a lot more difficult to do acquisitions for the big banks and the answer is to focus on what they do best and they can do it better," said Hahn by phone. "The days of empire-building are on hold."
In response to a reporter's question, Botin said she'd be happy to have her bonus linked to customer satisfaction surveys. At Santander's U.K. unit, "nobody would get a bonus if customers were not satisfied according to our metrics," she had earlier told analysts.
Botin earned variable pay of 2.2 million euros out of total compensation of 4.84 million euros in 2013, according to company filings.
Santander's relationships with its clients haven't always been easy.
Santander's Brazilian unit, the unit that with the U.K. contributes most to the group's profit, had the second-worst score in a Brazilian central bank ranking of customer complaints in the second half of 2014, according to regulator's website.
Income Boost
A year ago, Spain's markets regulator fined the bank almost 17 million euros over "serious" failings over the way it sold 7 billion euros of convertible bonds in 2007 to retail clients to fund its purchase of ABN Amro NV's Brazilian unit. Santander's U.K. unit was dubbed Britain's "most-complained-about bank" in 2010 by Which?, a consumer magazine.
The bank came 11th out of 30 in a Which? survey of the best and worst U.K. financial brands last September, scoring better than other high street banks such as Barclays Plc, Lloyds Banking Group Plc and Royal Bank of Scotland Group Plc.
Santander wants to increase the number of consumers who use it as their main bank by 40 percent to 17 million by 2017, the lender said today.
By taking advantage of its "unique opportunity" to increase the number of loyal clients in its main markets of Spain, the U.K., Brazil and Mexico, Botin said Santander could add up to 3 billion euros of gross income. The bank earned 42.6 billion euros in 2014.
"Just to be clear, we define loyalty in this group measure as a retail customer who has a primary banking relationship with Santander, and these are the four markets where we expect the biggest growth in loyal customers," said Botin.
New CEO
Botin's new stress on customer relationships makes sense, said Peter Braendle, who manages about 400 million euros of European stocks, including Santander shares, at Swisscanto Asset Management in Zurich.
"In the good old days, acquisition-making was a mostly successful strategy but in this new environment of capital restraints, even Santander has had to figure out that they need a change in strategy," said Braendle by phone.
Following the sudden death of her father Emilio in September, Botin has been stamping her vision on the bank by raising capital and reshaping top management.
In November, Botin removed Javier Marin, her father's choice as chief executive officer. In January, she raised 7.5 billion euros in a share sale to raise capital that her father had insisted the bank didn't need.
"I want the way we do things to be different," she told reporters.
Santander is not alone in trying to make customers transact more business with it because their traditional banking business is being reduced due to low interest rates, said Arturo Bris, a professor at the Lausanne-based IMD business school.
"All banks are saying this, but few know how to do it," said Bris. "It is a global trend because banks can't earn money based on the price of products they offer to clients."
Before it's here, it's on the Bloomberg Terminal.
LEARN MORE