Venezuela Arrests Pharmacy Executives Over 'Economic War'
Anatoly Kurmanaev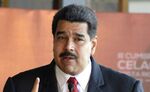 Venezuelan President Nicolas Maduro ordered the arrest of executives of one of the country's largest pharmacy chains for allegedly creating shortages of everything from diapers to heart medicine.
Price regulators made a surprise inspection at a store on Sunday and opened a case against Caracas-based Farmatodo C.A., which operates almost 200 drug stores across Venezuela and Colombia, the company said in a statement published by Maracaibo-based newspaper Panorama. Police then invited executives of the company to give statements, the company said.
Chief Executive Officer Pedro Luis Angarita and two other top managers of the closely held company remain under arrest without access to lawyers, said a personal assistant to one of the executives, who asked not to be named because of the sensitivity of the issue. An Information Ministry spokesman confirmed executives were detained on economic crime charges, without giving details.
"We discovered a famous chain of shops conspiring against the people," Maduro said in a televised address on Feb. 1. "We called for the owners, cuffed them and now they're in jail for provoking the people with economic war. Anyone who uses their business to damage the country will pay with jail time."
Collapsing oil revenue has sharpened shortages of basic products, with hundreds of people lining up outside pharmacies and supermarkets at delivery times. Maduro has blamed the scarcity on corporate hoarders and speculators and promised to increase state control of the distribution business.
Empty Shelves
"I'm not sure the government is aware of what it is starting," Freddy Ceballos, president of the Venezuelan Pharmacy Federation, said today in a telephone interview, adding that Farmatodo had been working with the government to improve distribution. "This is a threat to the private sector, even to those who are working with the government."
Farmatodo will be supplied by a state-controlled distribution network until stocks normalize, Maduro said. The stores were operating normally in Caracas this morning.
Two months before the local elections in 2013, Maduro sent hundreds of troops to enforce price cuts for electrical appliances. The ruling party subsequently won three-quarters of municipalities as thousands of people emptied the shelves of plasma television sets and Blu-ray players. The shops were never restocked.
"Farmatodo used to be an example of a successful private effort," opposition leader Henrique Capriles said in a post on his Twitter account on Sunday. "The consequences go beyond this chain. We're talking about finishing off the little there is left" of the private sector.
Shortages of everything from soap to car parts and 64 percent annual inflation have pushed Maduro's approval rating down to 22 percent, the lowest for a Venezuelan president in two decades, according to pollster Datanalisis. The International Monetary Fund forecasts Venezuela's economy will contract 7 percent in 2015, the most since 2003.
Before it's here, it's on the Bloomberg Terminal.
LEARN MORE