politics
Tim Pawlenty Says Scott Walker Is No Tim Pawlenty
The former Minnesota governor says his Midwestern neighbor has the tools to wage a successful presidential campaign.
By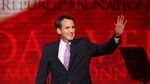 If Wisconsin Governor Scott Walker runs for president, he should take a good hard look at the styling of another Midwestern governor, Tim Pawlenty, and what doomed that candidacy in 2012. Walker has plenty of paid strategists around him—the presidential bid he's considering would be his fourth campaign in five years. But this Pawlenty-related advice is free, because it's coming from basically everyone.
Here's Nate Cohen in the New York Times on Jan. 12:
"Mr. Walker is not without weakness. … Some question whether he has the charisma to distinguish himself in a crowded field. He could end up like the former governor Tim Pawlenty, another Midwesterner, who was thought to be a strong challenger to Mr. Romney in 2012 but who ultimately failed to gain traction in Iowa."
And MSNBC's "Last Word" host Lawrence O'Donnell on Tuesday:
"Scott Walker may be the Tim Pawlenty of this group, meaning, yes, OK, on paper you can see the case for him. But on a stage, he won't find a way of rhetorically standing up."
 David Brooks on PBS Newshour on Friday:
"The problem with Walker was, people thought he was Tim Pawlenty, that he was just a little too boring. And, frankly, there's a look, there's a presidential look, and people weren't sure he had the look.  But if he can generate sparks, then that's somebody to look for."
But does Pawlenty think Walker is too Pawlenty? Not so much. The former Minnesota governor rejects the idea that he set the standard for boring presidential contenders, discards the idea that a lack of pizzazz doomed his own campaign, and says Walker has proven that he can captivate an audience.
"The people who say that probably haven't spent a lot of time around me," Pawlenty said in a phone interview from his Washington office. "My campaign was so brief there was no way to fairly judge that or label it that quickly. We didn't really get a fair hearing because we had to take a knee so early."
Pawlenty, now CEO of the Financial Services Roundtable, acknowledged the importance of effectively communicating a message, which he said was one of four general markers of a successful presidential candidate. The rest: a strong resume; gaining acceptance from the party's gatekeepers; and lots and lots of campaign money.
While walking through his four requirements for a presidential candidate, Pawlenty started to say that public speaking probably wasn't Walker's strong suit. But he stopped himself and pointed to the governor's speech last month in Iowa. "He can check that box now," Pawlenty said of Walker, whose performance that day helped propel him to the top of the GOP field in the newest Bloomberg Politics/Des Moines Register poll.
Still, the jury is still out. Alex Castellanos told Bloomberg Politics last week that he thought Walker was still just out of the top tier of would-be Republican candidates. And it's probably helpful to keep in mind some context for Walker's well-received speech: He was speaking to a group of social conservatives and shared the stage that day with the likes of Rick Santorum, Sarah Palin, and Donald Trump, who didn't exactly set the crowd on fire.
Pawlenty says the ability to deliver soaring rhetoric may hypnotize a news media increasingly focused on trivial detail. But in the post-Obama world, it may be less important for voters.
"Given the seriousness of the issues and in the wake of this presidency, people are going to not demand a cartoon character," Pawlenty said. "They want someone who is a serious, credible candidate, with serious credible experience. You can't be boring, but you also can't be a cartoon character. And Scott's got the right mix in between those two things."
Pawlenty said his own presidential campaign folded not because he wasn't exciting on stage, but largely due to a miscalculation that Romney would run away from the field. "We had the wrong thesis," Pawlenty said. "The race was much more competitive and lasted much longer than we anticipated."
Another problem: Pawlenty said his campaign also struggled to raise enough money, but that shouldn't plague Walker. "Given the national prominence that was generated by the recall and the national prominence of his re-election, he's got a much more substantial national finance network to be able to raise more significant funds," Pawlenty said. "That's going to allow him to persist in the race and survive some of the ups and downs."
Before it's here, it's on the Bloomberg Terminal.
LEARN MORE