Russia's Manufacturing at Weakest Since 2009 as Ruble Sinks
Anna Andrianova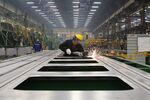 Russian manufacturing slipped to a 5 1/2-year low as the nation's worst currency crisis since 1998 stokes inflation and weighs on businesses already facing a recession.
The Purchasing Managers' Index fell to 47.6 last month, the lowest since June 2009, from 48.9 in December, HSBC Holdings Plc said Monday in a statement, citing data compiled by Markit Economics. Readings below 50 indicate a deterioration in conditions.
"Signs of contracting business activity became more visible," said Alexander Morozov, HSBC's chief economist for Russia and the Commonwealth of Independent States. "Meanwhile, price pressures intensified further, increasing the probability of a 'bad equilibrium:' high price growth amid falling demand."
The economy of the world's largest energy exporter faces its steepest downturn in six years with oil prices near 2009 lows compounding damage from sanctions over Ukraine. The central bank raised borrowing costs six times last year and spent about a fifth of its reserves to prop up the ruble and tame inflation. A surprise interest-rate cut Friday came as some officials criticized monetary policy for stifling business.
The ruble rebounded after depreciating for three days and traded 0.5 percent stronger at 68.6 against the dollar as of 2:48 p.m. in Moscow. The yield on five-year government ruble bonds fell for a second day, declining 11 basis points to 14.76 percent, the lowest in a week, as the rate cut made the return on local bonds more appealing to investors.
Agriculture, Cars
Higher interest rates in the agriculture industry are making it harder for farmers to expand output as winter weather threatens crops, according to Amy Reynolds, a senior economist at the International Grains Council in London.
Other companies, such as tour operators, are already reeling from the ruble's collapse. It's dived 13.2 percent against the dollar this year, the third-worst performer among 170 world currencies tracked by Bloomberg.
U.S. automaker Ford Motor Co. laid off several hundred workers in Russia and cut local production, with Chief Financial Officer Robert Shanks telling Handelsblatt that his company sees market woes persisting in 2015. The company lost about $250 million in Russia last year, he said in an interview.
Wine importer Rusimport filed for bankruptcy protection, according to documents on its website. January sales fell by half from a year earlier, the Kommersant newspaper reported Monday, citing an unidentified representative of the company.
Economy, Inflation
While the economy grew 0.6 percent in 2014, it may shrink 3.2 percent from a year earlier in the first half of 2015, the central bank said Friday after lowering its main interest rate to 15 percent from 17 percent. Inflation reached 11.4 percent in December and may accelerate to as much as 17 percent in March or April, according to Deputy Economy Minister Alexey Vedev.
Inflation should start to slow in the second half and reach "single-digit level" in early 2016, central bank Chairman Elvira Nabiullina said in an interview on state TV aired Feb.1, according to RIA Novosti. In the meantime, it risks damaging economic activity further, according to Alfa Bank in Moscow.
"The spike in inflation is worse than expected and should kill demand," Natalia Orlova, the bank's chief economist, said Monday in an e-mailed note.
Before it's here, it's on the Bloomberg Terminal.
LEARN MORE