Osborne Says Global Economy at Risk from Greece Stand-Off
Svenja O'Donnell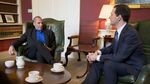 U.K. Chancellor of the Exchequer George Osborne warned the stand-off between Greece's new government and the euro area is threatening the world economy.
Speaking after meeting Greek Finance Minister Yanis Varoufakis in London Monday, Osborne said the tensions were also a danger to Britain's recovery.
"It's clear that the stand-off between Greece and the euro zone is fast becoming the biggest risk to the global economy," he said in an e-mailed statement. "It's a rising threat to our economy at home."
Greece's week-old government has caused unease among its European neighbors and roiled financial markets after Varoufakis said it won't take more aid under its current bailout and wants a new deal by the end of May. Varoufakis spoke with Osborne Monday before meeting investors in London, as both he and Prime Minister Alexis Tsipras travel Europe to outline their plans.
"I urged the Greek finance minister to act responsibly," Osborne said. "But it's also important that the euro zone has a better plan for jobs and growth."
Tsipras issued a statement Saturday promising to abide by Greece's financial obligations. While euro-area officials want Athens to stick to the austerity demands of its existing bailout agreement, the Greek leader is seeking a debt writedown and an end to the committee that oversees the country's economy.
Before it's here, it's on the Bloomberg Terminal.
LEARN MORE