Islamic State Reach Cited by Pentagon Gloomier Than Obama's View
David Lerman and Tony Capaccio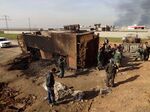 Islamic State extremists are expanding their international footprint in the Mideast and North Africa, the U.S. military's top intelligence official said, offering a far bleaker security assessment than have President Barack Obama and his political appointees.
The Sunni extremist group is extending its reach beyond Iraq and Syria using "ungoverned and under-governed areas" to establish affiliates in Algeria, Egypt and Libya, Marine Lieutenant General Vincent Stewart, director of the Defense Intelligence Agency, said in prepared testimony obtained in advance of a House Armed Services Committee hearing Tuesday.
That contrasts with Obama's assertion in his State of the Union address last month that "in Iraq and Syria, American leadership -- including our military power -- is stopping" Islamic State's advance.
Intelligence assessments are often less sanguine than those of others in an administration, and Stewart is similarly blunt in listing an unprecedented diversity of security challenges that he says confront the U.S. this year, including Russian military aggression, a modernizing Chinese military and cyber-attacks from Iran and North Korea.
"Iran and North Korea now consider disruptive and destructive cyberspace operations a valid instrument of statecraft, including during what the U.S. considers peacetime," Stewart said in the testimony.
"These states likely view cyberspace operations as an effective means of imposing costs on their adversaries while limiting the likelihood of damaging reprisals."
Sony Hacking
The U.S. has blamed North Korea, which denied any involvement, for the hacking of Sony Pictures Entertainment in retaliation for "The Interview," its movie comedy about a fictional plot to assassinate North Korean leader Kim Jong Un.
The warnings about Islamic State's growth come as many Republican members of Congress push for more aggressive action that could include a no-fly zone in Syria and limited numbers of U.S. forces deployed with Iraqi troops to help guide airstrikes.
While U.S.-led airstrikes have killed some Islamic State leaders and "degraded the group's ability to operate openly in Iraq and Syria," the extremist group will "continue limited offensive operations" using traditional terrorist tactics such as suicide attacks and car bombs, Stewart said.
In Syria, where President Bashar al-Assad has been locked in a civil war against moderate rebels, Islamic State fighters and other Islamic extremist groups, "we assess the conflict is trending in the Assad regime's favor," Stewart said. Even so, Assad "will continue to struggle and be unable to decisively defeat the opposition in 2015."
Iran's 'Political Will'
On Iran, where the U.S. and other world powers are attempting to strike a deal limiting the country's nuclear program, Stewart said the regime "faces no insurmountable technical barriers to producing a nuclear weapon, making Iran's political will the central issue."
Stewart also painted a bleak picture for Afghanistan, where he said Afghan forces "remain stalemated with the Taliban-led insurgency." President Barack Obama has called for withdrawing almost all U.S. troops by the end of his term.
Afghan forces "remain reliant" on U.S. and coalition "air, intelligence and maintenance support" and will "struggle to effectively replace these lost enablers" as coalition troops withdraw, Stewart said.
Addressing terrorist threats, Stewart said the Yemen-based branch of al-Qaeda "remains committed to attacking the West, probably by targeting commercial aviation with innovative explosives."
Russia's Pressure
The conflict in Ukraine also shows no signs of lessening, Stewart said.
"All indications are that Moscow will continue to employ a mix of military and non-military pressure against Kiev this year, to include the use of propaganda and information operations, cyberspace operations, covert agents, regular military personnel operating as 'volunteers,' mercenaries, para-institutional organizations, and the threat of military intervention," he said.
Russia also will continue its modernization plans, including for its road-mobile intercontinental ballistic missiles, he said.
China, too, presents a growing threat to its neighbors as it modernizes its military, Stewart said.
China twice deployed submarines to the Indian Ocean last year, Stewart said. "China continues production of JIN-class nuclear-powered ballistic missile submarines and submarine-launched ballistic missiles. We expect China to conduct its first nuclear deterrence patrols this year."
China's air force "is approaching modernization on a scale unprecedented in its history" and now has two stealth fighter programs, he said.