Greece Finance Minister Said to Press for EU Loan Restructuring
Jenny Paris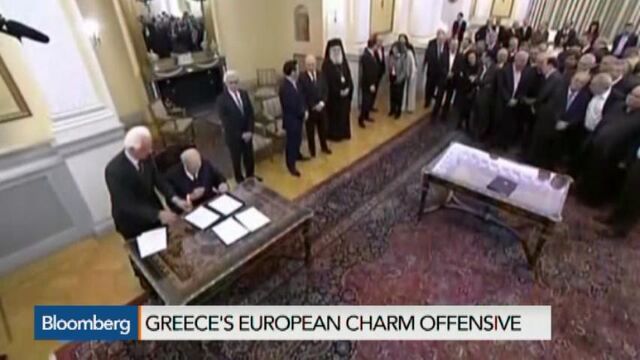 Greek Finance Minister Yanis Varoufakis told financiers in London he wants the country's "European Union-related" loans to be restructured, leaving debt to the International Monetary Fund and the private sector intact.
Varoufakis outlined his proposals at a breakfast meeting with about 20 investors and analysts in London on Monday, according to one attendee at the meeting. The plan lacked specifics on how the restructuring would take place, said Sarah Hewin, head of research at Standard Chartered Plc in London, who was at the meeting.
"A priority for them is to address the high level of debt," she said in a telephone interview. "They're looking to restructure EU bilateral loans and ECB loans and leave IMF and private-sector debt alone. At the moment, they're working at a broad case without being specific on how this restructuring will take place."
Varoufakis's comments appear to contradict Greek Prime Minister Alexis Tsipras, who said on Saturday his party's opposition to austerity "in no way" means the country will fail to meet its obligations to the European Central Bank or the International Monetary Fund. Officials in Berlin, Paris and Madrid have rejected the possibility of a debt writedown while holding out the prospect of easier repayment terms.
A Greek government spokesman in Athens didn't respond to a telephone call seeking comment.
Varoufakis also met with U.K. Chancellor of the Exchequer George Osborne as part of the Greek government's diplomatic campaign this week to win allies in its bid to end the country's onerous bailout. He arrived in London after a meeting on Sunday with his French counterpart Michel Sapin. He is also due to meet investors at a session organized by Bank of America Merrill Lynch and Deutsche Bank AG, later today.
Before it's here, it's on the Bloomberg Terminal.
LEARN MORE