Fighting the Living-Room War with the 'Draft Warren' Movement
Can love conquer Hillary? We are about to find out.
By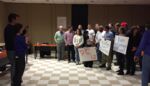 By MoveOn's count, and after a generous amount of hype and scrutiny, progressives gathered on Super Bowl weekend at 219 house parties* around the country to draft Massachusetts Senator Elizabeth Warren into the presidential race. The parties happened on Saturday and Sunday, and if attendees were savvy enough to tweet photos of the proceedings, they got retweets from MoveOn's mothership.