Turkey Keeps Up Calls for Basci to Cut Rates as Inflation Slows
Isobel Finkel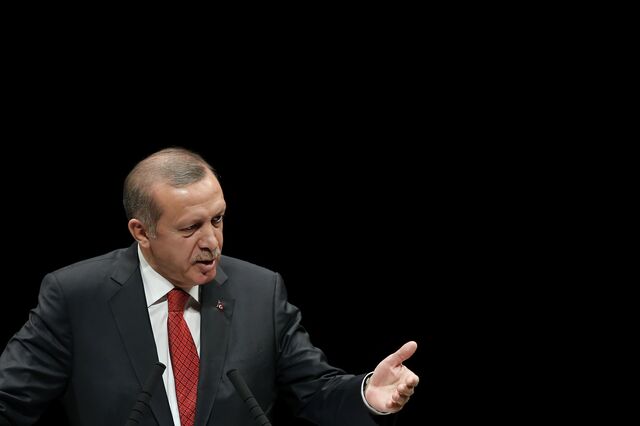 Turkey's government stepped up pressure on central-bank Governor Erdem Basci after he decided against holding an extraordinary meeting this week to consider an interest-rate cut. The lira advanced.
Data showed inflation slowed by 93 basis points in January from a month earlier, less than than the 1 percentage-point reduction that Basci had set as the threshold for the interim meeting. The central bank said it will now wait for the scheduled gathering on Feb. 24 to discuss monetary policy. President Recep Tayyip Erdogan's advisor Yigit Bulut criticized the move on Twitter and said the declining price growth showed "no one has any excuse any longer" to not cut rates.
The central bank's decision today not to hold an extraordinary meeting is "only likely to result in further pressure from the government to ease policy," William Jackson, a senior emerging markets economist at Capital Economics Ltd., wrote in an e-mailed note.
Consumer-price increases slid to 7.24 percent in January, compared with 8.17 percent a month earlier, compared with the median 6.8 percent estimate in a Bloomberg survey. The central bank targets a rate of 5.1 percent and Basci had said on Monday that maintaining low and stable inflation would be the best contribution by a central bank to economic growth.
The lira rebounded as much as 1 percent to 2.4068 to the dollar on the inflation data, briefly paring gains after Bulut's tweet. The currency slid to all-time lows versus the dollar on three consecutive days after Basci pledged Jan. 27 to hold a special review of rates in Ankara tomorrow if January inflation slowed substantially.
'Will Cut'
Jackson's colleague Neil Shearing was the only economist of the 17 surveyed by Bloomberg to correctly predict that inflation would not improve enough to trigger an emergency meeting. While Turkey has benefited from oil's 46 percent slide in the past 12 months since it is a net importer of the commodity, Brent crude has rallied 17 percent in the past four days.
"Against the backdrop of rising government pressure, there's a good chance that the central bank will still lower interest rates at its scheduled meeting later this month," Jackson said.
Basci lowered the one-week repurchase rate by 50 basis points to 7.75 percent in January, the fourth reduction since he more than doubled the rate to 10 percent at an emergency meeting a year earlier to stem the lira's slide to record lows.
Easing Cycle
Erdogan said during the weekend the central bank's resistance to lowering borrowing costs "will drive a person insane," stepping up his calls to ease monetary policy. Speaking at a conference in Istanbul, the president said Turkey needs to reduce funding costs to increase investment, employment and competitiveness, and cited low rates in the U.S., Japan and Europe.
Addressing his party in the parliament today after the inflation data release, Prime Minister Ahmet Davutoglu said he is confident inflation at a 20-month low will lead to a reduction in borrowing costs.
"Basci has been quite smart, linking his decision to the inflation data," said Guillaume Tresca, a strategist at Credit Agricole. The governor's commitment should lend "a little bit more credibility to the central bank. That said, it should not derail the ongoing monetary easing cycle. They will very likely cut" at the Feb. 24 policy meeting.
Before it's here, it's on the Bloomberg Terminal.
LEARN MORE