Disney Tie Hides Biggest Measles Risk as Adults Catch It
Anna Edney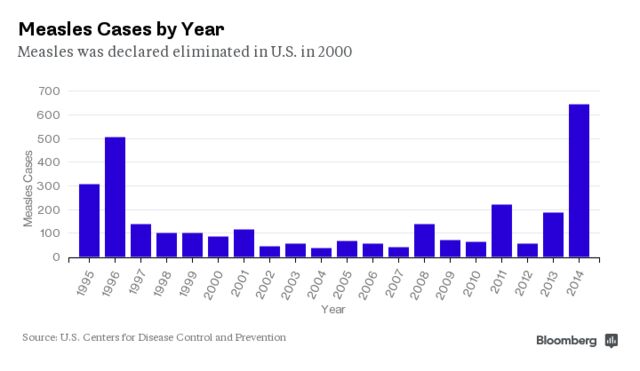 The debate spurred by a measles outbreak linked to Disneyland over whether to vaccinate children for infectious diseases has overshadowed another vulnerable population: grown-ups.
More than half of the cases in the measles outbreak in California, which started in December at Disneyland and Disney California Adventure Park, have been adults, according to the U.S. Centers for Disease Control and Prevention.
While the anti-vaccination campaign seemed to reach a fever pitch in recent years with the help of celebrity endorsements, the movement goes back further, and it may be that the early wave of kids who never had their shots are the adults now at greatest risk.
In California, "a large proportion of children fall through the cracks who are not immunized," Wilbert van Panhuis, an epidemiologist at the University of Pittsburgh Graduate School of Public Health, said in an interview. "This has happened for some years. Children who have fallen through the cracks have grown older and reached adulthood."
The location of the outbreak at a big public site where grown-ups and children mix, also raised the chances of unvaccinated adults being exposed to the disease.
"When you get measles coming into a place like Disneyland where there's opportunity for lots of contact, the needles in the haystack are being exposed," Walter Orenstein, associate director of the Emory Vaccine Center at Emory University in Atlanta, said in an interview.
The virus is one of the most contagious pathogens known to man, and causes more serious complications in about 3 of 10 patients, according to the CDC. Measles was declared eliminated in the U.S. in 2000, and outbreaks are started by people visiting from outside the U.S. or who return and bring it back.
Spreading Virus
"In a park, like an entertainment park, the children tend to stay with their parents," van Panhuis said. "The contact between adults that are highly mobile and walk all over the place can make the unvaccinated adults at a higher risk of finding somebody else that is infected."
In California where 91 measles cases have been identified as of Friday, 63 percent of the measles cases are in adults 20 and older, according to the state's Department of Public Health. Children and teens ages 5 to 19 make up 19 percent of the cases and kids ages 1 to 4 represent 13 percent of those with the disease. Babies younger than 1 who are typically too young to be vaccinated make up 6 percent of the infections, the department said.
The incidence rate is still higher in children since there are fewer of them than there are adults, Orenstein said.
The CDC has identified 102 measles cases total in 14 states though the agency hasn't identified the ages in cases outside of California.
Unusual Pattern
"Based on what we know now, we're seeing more adults than we have seen in a typical outbreak," Anne Schuchat, director of the CDC's National Center for Immunization and Respiratory Diseases, said on a call with reporters last week.
In the first eight months of 2013, measles sickened 159 people from 16 states, 27 percent of whom were 20 or older. Most, 36 percent, were ages 5 to 19, according to the CDC. From January through May last year, the CDC confirmed 288 measles cases, 52 percent of who were 20 or older and 25 percent that were 5 to 19 years old.
Schuchat also blamed this year's outbreak on the unvaccinated.
"The majority of the adults and children that are reported to us for which we have information did not get vaccinated or don't know whether they have been vaccinated," Schuchat said. "This is not a problem with the measles vaccine not working; this is a problem of the measles vaccine not being used."
She said for adults who are unsure if they've had the vaccine, there's no harm in getting another.
Before it's here, it's on the Bloomberg Terminal.
LEARN MORE