Chevy Ad Gives Super Bowl Fans Brief Scare as TV Screens Go Dark
Gerry Smith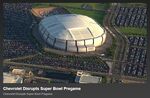 Chevrolet had millions of Super Bowl viewers briefly screaming at their TVs before the football game even started.
The 30-second commercial during the pre-game show began with what appeared to be a live feed of the stadium before the screen flickered, then went black.
No need to adjust your TVs, America.
After several seconds of darkness, the screen read: "What would you do if your TV went out?" then explained how the new Chevy Colorado has built-in 4G LTE Wi-Fi that would allow owners to stream the game from inside the truck. The ad ended with the AC/DC song "Back in Black."
Many viewers took to social media to express how they'd been duped, some with praise and others with relief. The hashtag #ChevyColorado was trending with tweets such as, "Dear #ChevyColorado I almost yelled at my kids 'What did you guys do this time?!'. Lol. #SuperBowlXLIX."
"Whoever wrote that #ChevyColorado ad spot getting promoted and winning an award," another Twitter user wrote.
Another wrote: "Good one #ChevyColorado! My husband almost keeled over when he thought the TV went out." #SuperBowl2015''
Watch the commercial here: https://www.youtube.com/watch?v=hHS426cnNBA&feature=youtu.be
Before it's here, it's on the Bloomberg Terminal.
LEARN MORE