Balls Says English Regions to Get 30 Billion Pounds
Alex Morales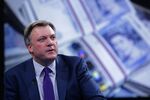 England's regions will get 30 billion pounds ($45 billion) of funds over the next five years, the opposition Labour Party will say today in a bid to broaden its appeal beyond urban areas and the north.
Leader Ed Miliband and finance spokesman Ed Balls will outline plans to devolve the funding from the central government if Labour wins the May 7 general election, the party said in an e-mailed statement. The program will be "the biggest devolution of economic power and funding to England's city and county regions for generations," Labour said.
"Too many parts of our country are being left behind by the Tories," Balls said in the statement. "Labour's economic plan is about ensuring every part of the country and all working people can benefit from economic recovery, not just a few."
Labour is trying to re-establish a lead among voters after recent polls showed the party and ruling Conservatives swapping positions. A year ago, Labour held a double-digit lead. Party leaders are trying to widen support in England, and the measures announced today are a riposte to Prime Minister David Cameron's pledge to build a "Northern Powerhouse," spreading economic growth beyond London to cities in northern England including Manchester and Liverpool.
"We want to see not just a Northern powerhouse, but Midlands, Eastern and Southern powerhouses too," Balls said. "We will not only back our great cities, but our towns and county regions too."
Cameron's Six Themes
The Conservatives traditionally dominate the rural vote and constituencies in the south. At the last election in 2010, Labour won just 2 out of 58 seats in eastern England, compared with 52 for the Tories. In southern England, excluding London, they took 8 out of 139 seats, versus 111 for the Conservatives.
Cameron today will give his fourth speech in a series of six outlining the main themes he's putting at the heart of his party's bid for re-election. The speech in the capital will focus on education, after Education Secretary Nicky Morgan said yesterday that Conservatives will push for higher standards in English and math in a bid to elevate the U.K. on international education league tables.
"We want every child to have the best possible start in life and so getting English and Maths, those absolute basics right, has to be at the core of our education system," Morgan said in an interview on the BBC's "Andrew Marr Show." She also said she's pushing to protect the schools budget for ages 5 through 16 from spending cuts in the next Parliament.
Education
The Liberal Democrats, in coalition with the Conservatives, said they had helped to protect the schools budget in the current Parliament from a spending freeze sought by the Tories that would have represented a 10 percent cut in real terms over five years.
"They tried to cut the schools budget in 2010 and I fear that history is repeating itself in 2015," Liberal Democrat Education Minister David Laws said in an e-mailed statement. "Their silence on the protection of the funding for early years, schools and colleges is deafening."
In Cameron's first election speech on Jan. 12, he pledged to eliminate the government's budget deficit and begin paying down the country's debts. Since then, he's promised to cut taxes in the next Parliament and lead Britain toward full employment, so that everyone who wants a job can get one. His other themes are housing and retirement.
Labour says Cameron's policies have increased inequality, with spending cuts hitting the poorest the hardest. Cameron's party has courted an image of economic competence, while saying a Labour victory would disrupt the economic recovery.
Polls
"The alternative to David Cameron would be chaos, and that's what we're focusing on," Culture Secretary Sajid Javid told the BBC's "Sunday Politics" program.
That view yesterday was supported by Alliance Boots Chairman Stefano Pessina, who said Miliband's plan is "not helpful for business, not helpful for the country and in the end it probably won't be helpful for them," according to the Sunday Telegraph.
A YouGov poll for the Sunday Times showed Labour with 35 percent voter support, representing a 3 percentage-point lead over the Tories. The previous five YouGov polls showed a 1-point Tory lead, or the main parties tied. The U.K. Independence Party had 15 percent support and the Liberal Democrats, in coalition with the Tories, commanded 7 percent. That compares with the 23 percent of the vote they took in 2010.
Gaining Seats
"Our support is concentrated," Liberal Democrat Business Secretary Vince Cable told the BBC's "Sunday Politics" program. "I am confident we will hold most of our seats. We may even gain a few elsewhere."
In a second poll yesterday, carried out by Opinium Research for the Observer newspaper, the Conservatives gained 4 percentage points to 32 percent, Labour remained at 33 percent, and the Liberal Democrats dropped 2 points to 5 percent, falling behind the Greens at 6 percent and UKIP at 18 percent.
Labour's pledge of devolved funding will be for housing, transport, business support, employment and adult skills. Balls will also say he'll allow counties and cities to retain business taxes to reinvest locally.
Before it's here, it's on the Bloomberg Terminal.
LEARN MORE