Amazon Is Breaking Out Cloud Revenue. Why Aren't You?
Alex Barinka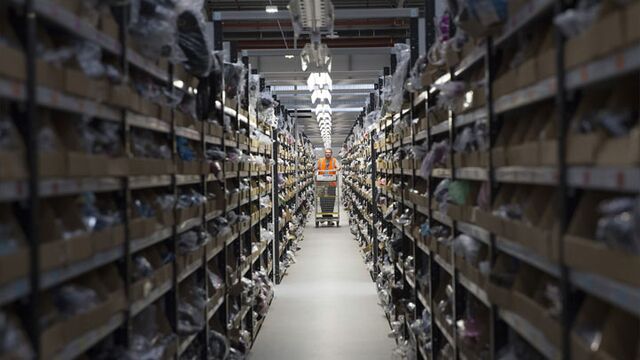 Amazon.com Inc.'s plan to divulge its cloud-business revenue is putting pressure on competitors to follow suit.
In its next quarterly earnings report, the company plans to make Amazon Web Services a separate category, showing investors that it's the cloud market leader. The move follows a shift by Oracle Corp., which in June began breaking out results from its cloud-computing offerings.
Cloud, where customers rent server space to store and run applications on the Internet, is promoted as the future of the technology industry -- but companies haven't made it easy to gauge the competition. For some companies, cloud-computing revenue is counted with unrelated products and lumped into ambiguously-named divisions; others include hardware sales or metrics that are tallied separately from income statements.
"Investors are laser focused on the health of the cloud business for larger tech players as this is a golden market opportunity that can be a major catalyst to growth," said Daniel Ives, an analyst at FBR & Co. Breaking out cloud revenue is "a major step in the right direction and has helped with transparency around this all-important growth engine."
Here are how a handful of technology companies report the increasingly important cloud numbers:
AMAZON: Amazon Web Services has traditionally been put into "North America, Other," which includes advertising services and co-branded credit card agreements. Last year, the category produced $5.4 billion in sales, according to a company statement Thursday.
AWS has become a big deal strategically for the online retailer, embedding its technology with businesses and consumers who need cloud-computing infrastructure. While already dubbed the leader by Synergy Research Group in public cloud infrastructure, next quarter Amazon intends to prove with its standalone cloud number just how significant a player it is.
"We just think it's an appropriate way to look at our business in 2015," Amazon Chief Financial Officer Tom Szkutak said.
ORACLE: the software maker has arguably given the most clarity on cloud sales among its enterprise technology peers -- and it's not afraid to say so. The company in June began breaking out infrastructure-as-a-service and a combined software and platform offerings delivered as a service.
In the six months after the accounting change ended in Nov. 30, revenue totaled $698 million for software and platform offerings and $293 million for infrastructure.
"As the cloud revenue has grown larger and more significant, we've gone ahead and disclosed them on the face of our income statements," then-CFO Safra Catz said on a June earnings call, asking analysts and investors to pull out the financial document so she could walk them through the changes.
IBM: International Business Machines Corp. is quick to claim cloud leadership with a sticker number of $7 billion in sales last year.
"I think that kind of puts us at the forefront of cloud in the cloud industry and the cloud space," CFO Martin Schroeter said on a Jan. 20 earnings conference call.
That $7 billion, which is not reported as a line-item on the income statement, also includes software, hardware and services to build private clouds. The "as-a-service" business, which is only technology delivered online and more comparable to its peers, had a $3.5 billion annual run rate at the end of 2014.
MICROSOFT: Another player who combines different business products into one number is Microsoft Corp. The Windows Azure cloud offering, as well as cloud-based Office 365 and Dynamics CRM, all get lumped in to the same category.
Similar to IBM, the company does break out an annualized run rate metric for its commercial cloud: $5.5 billion.
HEWLETT-PACKARD: Hewlett-Packard Co. sells cloud-based products in what it calls the Enterprise Group. The company doesn't give a separate cloud number in its financial statements.
RACKSPACE: Founded in 1998, managed cloud services provider Rackspace Hosting Inc. breaks out net revenue for dedicated cloud and public cloud offerings. Respectively, net sales came in at about $1.2 billion and $509 million in the past four reported quarters through September.
SALESFORCE: About 94 percent of what Salesforce.com Inc. sells is cloud-based technology for businesses, which is tallied as "Subscription and support" revenue. That totaled $4.7 billion in the past four reported quarters through October.
Before it's here, it's on the Bloomberg Terminal.
LEARN MORE