'Dread Pirate' Judge Faults Defense for Lack of Trial 'Plan B'
Bob Van Voris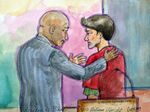 The judge overseeing the conspiracy and trafficking trial of Ross Ulbricht, the man charged with running the Silk Road online drug bazaar, criticized several of his lawyer's tactical moves while blocking last-minute testimony from two defense witnesses.
U.S. District Judge Katherine Forrest ruled Sunday that Ulbricht's lawyer, Joshua Dratel, failed to give the government details of the witnesses' testimony in time to let them take the stand in the trial, which started Jan. 13 and may conclude with closing statements Tuesday.
"Why did the defense choose to proceed as it has?" Forrest asked, before granting the government's request to block the expert witnesses from testifying. "This court cannot know."
Prosecutors rested their case against Ulbricht Monday. After Forrest denied his request to throw the case out rather than submit it to the jury, Ulbricht told the judge he didn't plan to testify in his own defense.
Forrest rejected Dratel's claim that her rulings requiring him to question government witnesses within the topic, or "scope," of their testimony forced him to add a computer expert as an 11th-hour witness. The judge ruled that allowing the witnesses, an expert in computer-based currencies and another in cybersecurity, would be "grossly unfair" to prosecutors and could delay the trial enough to risk losing two of the 12 jurors in the case.
'Plan B'
"If defense counsel truly planned his trial strategy around his ability to bend the rules and examine witnesses outside the scope" of their testimony, "then he should have had a 'Plan B' that included complying with the rules," Forrest said in the opinion.
The ruling questions other decisions by Dratel before and during the trial. Dratel declined to comment on the judge's opinion.
Last week Forrest denied Dratel's request for additional time to prepare to question a prosecution witness. The witness, a former Federal Bureau of Investigation agent, was called in response to Dratel's claim, in his opening statement, that Ulbricht made most of the bitcoins found on his Samsung 700Z laptop computer through trading in the virtual currency, not from drug-sale commissions.
"It was reasonable to expect that defendant had performed the very comparison that the government then scrambled to perform," Forrest said.
Bitcoin Transfers
The former agent, Ilhwan Yum, and a colleague spent two weeks after Dratel's opening statement tracing bitcoin transfers recorded on Ulbricht's computer and on Silk Road servers, comparing them to data on Blockchain, a website where bitcoin transactions are recorded.
Yum testified that he traced 700,000, or about $13 million of the 790,000 bitcoins found on the laptop, to Silk Road.
In his opening, Dratel conceded for the first time that Ulbricht started Silk Road in 2011. He told jurors his client passed the site to others within a few months because of the stress of running it.
Later in the trial, Dratel claimed Ulbricht was set up as a "fall guy" by Mark Karpeles, the former head of the bankrupt Mt. Gox Co. bitcoin exchange. Dratel claimed Karpeles was the true mastermind behind Silk Road.
Karpeles, who lives in Japan, has denied involvement with Silk Road. He hasn't been charged.
Computer Evidence
Forrest ruled in October that Ulbricht had failed to assert any personal interest in computer evidence that he sought to block on constitutional grounds. While the move allowed Ulbricht to distance himself from Silk Road, Forrest said it was impossible to consider his claim that his rights were violated and that the evidence should be kept out of the trial.
The decision was "particularly interesting" in light of Dratel's admission that his client did create Silk Road, Forrest said in Sunday's ruling.
In the trial Monday, jurors were told by prosecutors that "Dread Pirate Roberts," who ran the Silk Road online drug bazaar for more than two years, asked a member of the Hells Angels motorcycle gang to kill a man who was blackmailing the site, if it wasn't "too much trouble."
The jury also heard evidence of secret online chats the government said were found on the Ulbricht's laptop.
Web Chats
In a series of web chats, from 2013, Dread Pirate Roberts, or DPR, is polite and businesslike as he discusses murders, drug trafficking and a $500,000 blackmail plot against him by a site user called "FriendlyChemist."
Prosecutors claimed Ulbricht tried to arrange six killings, including the murder of a former Silk Road employee. No murders were actually carried out, according to prosecutors. Ulbricht, who isn't charged with murder-for-hire in New York, faces one such charge in Baltimore.
Ulbricht has said that, while he started Silk Road, he later gave it up and didn't engage in the crimes he's accused of under the Dread Pirate name.
Prosecutors claimed Ulbricht tried in March and April 2013 to arrange FriendlyChemist's murder after the Silk Road vendor threatened to disclose the identities of customers and other sellers on the site.
"FriendlyChemist is causing me problems and I would like to put a bounty on his head, if that's not too much trouble for you," DPR told "redandwhite," the gang member, who claimed to be FriendlyChemist's drug supplier. "Hopefully you are open to this and this can be another aspect of our business relationship."
In the chats, redandwhite claimed he had kidnapped and killed FriendlyChemist's partner, "Jim," after Jim stole drugs from him.
"We don't take kindly to thieves," redandwhite told DPR. "He's gone."
After they negotiated a price of $150,000 for the hit on FriendlyChemist, Dread Pirate Roberts told redandwhite: "Good luck and be safe."
The case is U.S. v. Ulbricht, 14-cr-00068, U.S. District Court, Southern District of New York (Manhattan).