'Clinton the Musical' Gets Its Hillary for Off-Broadway Run
It comes amid anticipation of a possible announcement from Hillary Clinton that she will run for president in 2016.
By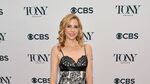 Veteran Broadway actress Kerry Butler says she will play Hillary Clinton in the off-Broadway run of the satirical Clinton The Musical, the Associated Press reported Thursday.
The show will open at New World Stages in late March, and the news comes amid anticipation of a possible announcement from Hillary Clinton that she will run for president in 2016. Butler is best known for her work in Hairspray, Xanadu, and Rock of Ages, and most teenage theater nerds of the early 2000s first knew her as the star of "Bat Boy: The Musical," an off-Broadway musical based on a Weekly World News story that accrued a devoted cult following. 
Clinton premiered in 2014 at the Edinburgh Fringe Festival, one of the world's biggest events for new plays, where it was nominated for best musical. It came to New York (with different casting) over the summer for a well-received run at the New York Musical Theater Festival.
The show features two portrayals of the former president, one a composed leader, the other a boisterous womanizer. One of the show's writers, Michael Hodge, described the two characters on Bloomberg Television's In the Loop in July as "the Sunday morning Bill and the Saturday night Bill."
Over the years, the political world has yielded some rich source material for major stage plays. All The Way, one of the most acclaimed plays of 2014, starred Bryan Cranston and chronicled the presidency of Lyndon Johnson. Prior to that, Stephen Sondheim's Assassins, which ran on Broadway in 2004, interwove the stories of all the people who have killed or tried to kill American presidents. Those were more serious works that reflected more than lampooned. Will Ferrell's 2009 one-man show You're Welcome America: An Evening With George Bush was pretty much an extended version of his work on Saturday Night Live, but it was a Broadway hit nonetheless. 


Hodge said on In The Loop that it was a delicate balance to figure out how to make Hillary Clinton funny without making too much fun of her. 
"Probably the biggest challenge is trying to both find the humor in the things that she does without being completely disrespectful, but we're disrespectful of a lot of people in the show," he said. 
The Associated Press reported that Butler volunteered for Hillary Clinton's presidential campaign, and that she was at first reluctant to come off as mocking her. 
"I have pushed them to make her stronger," Butler told the Associated Press. "I feel like she gets a bad rap. I've been doing so much research and a lot of the interviews I've seen she comes off as very sweet. I think that people are intimidated by her education and that she's a lawyer. And because she's a woman, they just put her in this category. In all the things I've watched, it doesn't seem that she's like that."