politics
With Romney Gone, Ryan Says He Will Stay Neutral in 2016
That apparently includes even fellow Wisconsinite Scott Walker.
By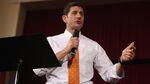 When it comes to 2016, Representative Paul Ryan says he has to stay above the fray now that Mitt Romney is out.
The Wisconsin Republican, who was Romney's running mate in 2012, said on NBC's Meet the Press on Sunday that he would have endorsed Romney if he had run. Now, his chairmanship of the Republican National Committee's presidential trust, which is in charge of allocating the party's money for 2016, means he has "to be neutral in this," he said, according to an NBC transcript.
That apparently includes even fellow Wisconsinite Scott Walker, who is considering a presidential campaign.
"Had Mitt jumped in, I think that would have changed circumstances," Ryan said. "But since I'm the chair of this trust...that requires my neutrality. But, look, let me say Scott Walker's a great governor. He's a good friend of mine. He's a reform governor. He's done some amazing things."
Ryan, who said in January that he wouldn't run for president in 2016, didn't rule out joining a ticket as a vice-presidential candidate again. He said he hadn't "really given any thought to it" and would be concentrating on his work as chairman of the House Ways and Means committee.
Before it's here, it's on the Bloomberg Terminal.
LEARN MORE