USSR Alive to Bond Traders for Wrong Reasons: Chart
Boris Korby and Elena Popina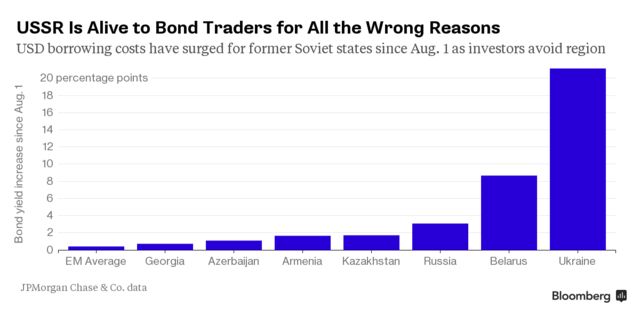 Russia's economic malaise is infecting its neighbors.
The CHART OF THE DAY illustrates how borrowing costs for seven former Soviet nations have surged 5.43 percentage points on average over the past six months as sanctions, the threat of military conflict and plunging oil prices take their toll beyond Russia's borders.
Concerns the nation's worsening economic slump will spread across the region is fueling a selloff in dollar debt from Georgia to Kazakhstan. Fighting in eastern Ukraine between the government and pro-Russia rebels has pushed the country to the edge of default, while skittish traders on Thursday dumped bonds issued by Belarus, which sends about half of its exports to Russia, after President Aleksandr Lukashenko mistakenly used the word "restructure" instead of "refinance" in a press conference while referring to the country's debt.
"There clearly is a spillover effect," Tatiana Orlova, the chief economist for Russia at Royal Bank of Scotland Group Plc in London, said in a Jan. 30 telephone interview. "The financial situation in Russia makes investors question stability in the region, and they fear that geopolitical tensions in one country will translate into uncertainty in the rest of the post-Soviet countries."
Ukraine, Armenia and Belarus all counted Russia as their largest trading partner in 2013, according to data compiled by Bloomberg. Ukraine's dollar-denominated bonds yield 30.2 percent, the second-most after Venezuela among 54 emerging-market countries tracked by JPMorgan Chase & Co. Developing-nation dollar bonds pay an average 5.59 percent, the data show.
Before it's here, it's on the Bloomberg Terminal.
LEARN MORE