Strauss-Kahn Pimping Trial Starts on Role in Prostitute Ring
Hugo Miller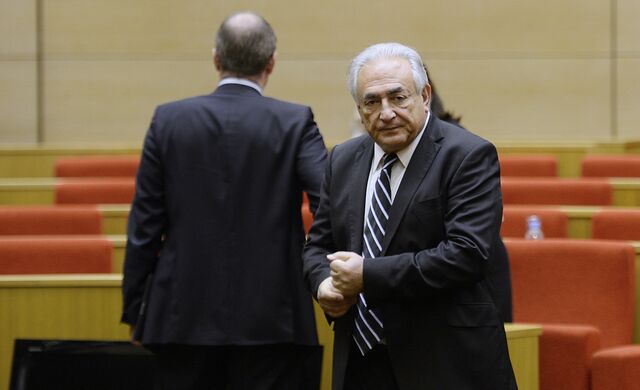 Dominique Strauss-Kahn appeared before French judges alongside 14 men and women to stand trial over their alleged roles in an international prostitution ring.
After a dozen co-defendants were called before Judge Bernard Lemaire, Strauss-Kahn stepped forward to hear the charges against him. Dressed in a dark gray suit, white shirt and blue tie, he was accused of aiding and abetting in the prostitution of seven women from March 2008 to 2011.
Four years ago, the 65-year-old former French finance minister was the favorite to succeed Nicolas Sarkozy as president. Then he was arrested in New York, accused of sexually assaulting a hotel maid. He resigned as International Monetary Fund managing director, and while the case was dropped, Strauss-Kahn has struggled since. He was charged with "aggravated pimping" in the French prostitution case in 2012.
On Monday, he avoided the scores of press at the courthouse, driving directly into the garage in a black Audi sedan. His lawyers declined to comment as they arrived. His testimony will begin Feb. 10 in the so-called Carlton Affair, known for the four-star hotel in the northern French city of Lille where some of the alleged encounters took place and some of the defendants worked.
When asked by Lemaire whether he'd been to the Carlton, he said he hadn't and that the sex parties he has admitted to attending were held elsewhere.
Like the others, Strauss-Kahn was also accused of hiring women and pressing them to become prostitutes.
'No Pressure'
"There was no pressure on those girls to prostitute themselves," Dominique Alderweireld, another defendant, told reporters Monday during a break in the proceedings. The cigar-smoking businessman known as "Dodo la Saumure" runs a massage parlor business in Belgium, less than an hour drive from Lille.
Strauss-Kahn and Alderweireld told the court they hadn't met until today.
More than a dozen news trucks were stationed outside the courthouse for the opening of the trial and 114 seats were reserved for media. Lemaire rejected an opening-day bid to close the trial to the press.
Strauss-Kahn reached a civil settlement with the woman in New York after the criminal case was dropped and had a subsequent attempted rape investigation in Paris closed over statute of limitations issues. By then, his chances to be the Socialist party's presidential nominee were gone.
'Soap Opera'
Strauss-Kahn sought to remake himself in the private sector. In October, he stepped down from an investment firm days before his business partner died in an apparent suicide. Leyne Strauss Kahn & Partners declared bankruptcy days later and Luxembourg is investigating the firm's collapse.
"It's part of this soap opera, or human tragedy, depending on how you look at it, of someone who could have become the next president of France," said Christopher Mesnooh, a lawyer in Paris who isn't involved in Strauss-Kahn's cases. "To call it Shakespearean is probably an understatement."
The accusations "contradict all good legal sense," his defense team said in a December 2012 statement. While prostitution and paying for sex aren't illegal in France, procuring prostitutes for others is. Strauss-Kahn told French daily Le Parisien in October that he was "serene" about the trial and was confident the court will clear him.
10 Years
The trial will run for about three weeks, Lemaire said. If convicted, Strauss-Kahn could face 10 years in jail and a 1.5 million-euro ($1.7 million) fine.
A six-month suspended sentence would be more likely if he's found guilty, said Stephane Bonifassi, a lawyer at Lebray & Associates in Paris who isn't involved in the case. Regardless, Strauss-Kahn will struggle to revive his career a third time, he said.
"DSK is now on the fringe," he said. "Enough is enough."
Before it's here, it's on the Bloomberg Terminal.
LEARN MORE