Seau, Bettis Lead Eight-Member Pro Football Hall of Fame Class
Erik Matuszewski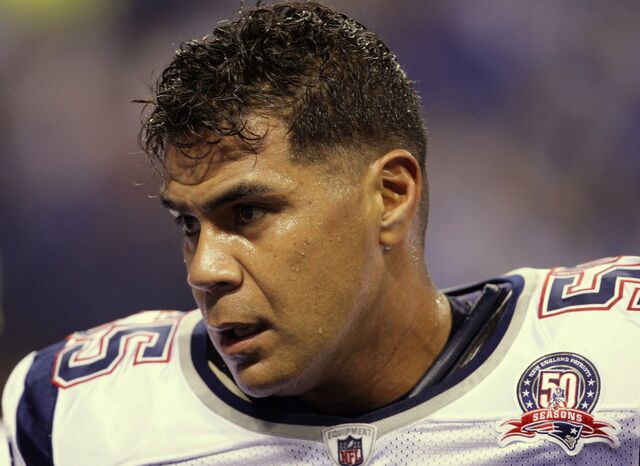 Junior Seau was elected to the Pro Football Hall of Fame, an honor that comes 2 1/2 years after the eight-time All-Pro linebacker committed suicide by shooting himself in the chest at his home in California.
Seau, who was found to have been suffering from a brain disease caused by repeated head injuries associated with contact sports, headlines this year's eight-member class.
Running back Jerome Bettis, wide receiver Tim Brown, defensive end Charles Haley and guard Will Shields were also selected. Also in this year's class are senior nominee Mick Tingelhoff and a pair of former general managers who were in the contributor category: Ron Wolf and Bill Polian.
Seau was selected to the Pro Bowl 12 times over his 20 seasons, totaling 56 1/2 sacks and 18 interceptions, and in 1994 helped lead the San Diego Chargers to their lone Super Bowl appearance. The National Football League's Defensive Player of the Year in 1992, Seau also played with the Miami Dolphins and New England Patriots, and was selected to the league's All-Decade team of the 1990s.
The enshrinement ceremony is scheduled for Aug. 8 in Canton, Ohio, where Seau will be inducted posthumously and have his bronze Hall of Fame bust unveiled. The rest of the 2015 class will make speeches after receiving their gold jackets.
Classmates
Shields was selected in his fourth year of eligibility, Bettis was up for election a fifth time, and Brown and Haley were each in their sixth year of eligibility.
Bettis, 42, spent 10 of his 13 seasons with the Pittsburgh Steelers and ranks sixth in NFL history with 13,662 rushing yards. A bruising runner, the 5-foot-11, 243-pound Bettis had eight 1,000-yard rushing seasons, made six Pro Bowls and won a Super Bowl title with the Steelers in his final year.
Brown, 48, played with the Raiders for 16 of his 17 NFL seasons and ranks fifth in league history with 1,094 receptions. Brown made nine Pro Bowls -- for both his receiving and kick returning prowess -- and at the time of his retirement his 19,682 combined yards ranked fifth all-time. He totaled 105 touchdowns, including 100 receiving, one rushing, three on punt returns and one on a kickoff return.
Haley, 51, is the only player in NFL history to play on five Super Bowl winning teams, having played for both the San Francisco 49ers and Dallas Cowboys. A five-time Pro Bowl selection, Haley totaled 100 1/2 career sacks and was twice voted the National Football Conference's top defensive player. He was in his 11th year of eligibility.
Shields, 43, never missed a game during his 14-season career with the Kansas City Chiefs and his 223 starts are a franchise record. He made 12 straight trips to the Pro Bowl and was selected to the NFL's All-Decade team of the 2000s.
Players have to be retired from the NFL for five seasons before becoming eligible for the Hall of Fame.
Contributors
Wolf, 76, has been recognized as one of the finest personnel men in pro football, according to the Hall of Fame's website. He spent 23 seasons building a Raiders team that posted winning seasons 17 times in that span. Wolf, who also worked with the Tampa Bay Buccaneers and New York Jets, was best known for his 11-year run as GM in Green Bay, where he was the architect of a team that won three straight division titles and made back-to-back Super Bowl appearances.
Polian, 72, spent 32 seasons in the NFL and is best remembered for his stints as general manager of the Buffalo Bills (1984-92) and Indianapolis Colts (1998-2011). He helped build a Bills team that made four straight Super Bowls in the 1990s and was at the helm of a Colts team that reached the postseason 11 times in a 12-year span, including two Super Bowl appearances and a title in 2007.
Tingelhoff
Tingelhoff, 74, became the Minnesota Vikings' starting center as a rookie in 1962 and held the position for the rest of his 17-year NFL career, starting 240 straight games. He anchored an offensive line that helped the Vikings claim 10 divisional titles in an 11-season span from 1968 to 1978.
Kicker Morten Andersen, coaches Don Coryell, Tony Dungy and Jimmy Johnson, running back Terrell Davis, linebacker Kevin Greene, receiver Marvin Harrison, safety John Lynch, offensive lineman Orlando Pace, and quarterback Kurt Warner were the finalists that weren't selected.
Before it's here, it's on the Bloomberg Terminal.
LEARN MORE