RBA to Join Rates Race as 13th Easing of 2015: Australia Credit
Michael Heath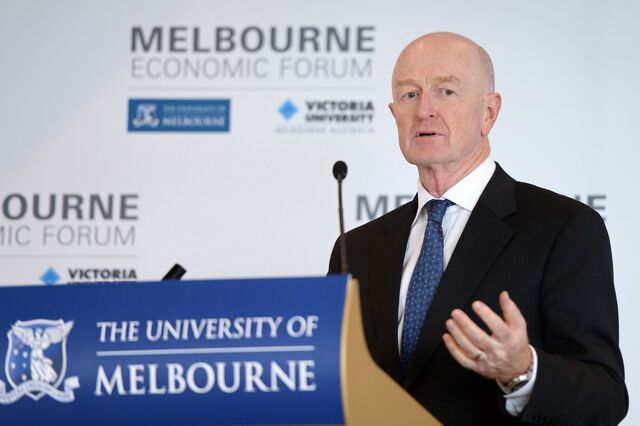 Australia's central bank is seen joining at least 12 monetary authorities that have eased policy since the New Year, as even a nation that has grown for more than 23 consecutive years catches the global disinflation bug.
Interest-rate swap traders see 66 percent odds the Reserve Bank of Australia's board will lower the overnight cash rate target by a quarter percentage point to 2.25 percent at Tuesday's meeting, ending a 17-month pause, and if not, a 90 percent chance it will in March. Three-year bond yields dropped to a record 1.885 percent on Monday. Stevens would join central banks including those of the euro region, Canada and India in seeking to stimulate their economies in 2015.
Governor Glenn Stevens needs to prevent a rebound in his currency that's trading at a 5 1/2-year low to boost the competitiveness of domestic industries, after the price of Australia's biggest export iron ore collapsed almost 50 percent in the past year. That mirrors a plunge in oil for Canada, which unexpectedly cut rates in January, and milk in New Zealand, where policy makers abandoned a tightening bias.
"Concerned Australian officials may decide to start the year with a bang," said Stephen Walters, JPMorgan Chase & Co.'s Sydney-based chief economist for Australia who predicts cuts in May and June. "It makes sense to us for officials first to send a dovish signal in the statement to prepare the ground and help cement Australian dollar weakness."
Rate-Bet Volatility
Lingering uncertainty over the RBA's stance was highlighted last week when traders priced in a 50 percent chance ahead of a Jan. 28 inflation report that showed core consumer prices rose more than forecast in the fourth quarter, sending bets down to about 15 percent.
That night, a columnist at Australia's biggest selling daily newspaper, the Herald Sun, said the RBA would lower its growth and inflation forecasts in a quarterly statement due this coming Friday and predicted a rate cut at Tuesday's meeting or a change of language. That sent rate bets soaring, while the currency tumbled and 10-year government bond yields dropped below the cash rate to reach an unprecedented low of 2.44 percent at the end of last week.
Also complicating the decision is employment data released Jan. 15, which showed Australia boosted hiring in November and December by the most in any two-month period in eight years. The jobless rate dropped to 6.1 percent in December.
The other area of concern for Stevens is property, where further rate reductions could inflate prices even more. Home loans to investors climbed to a record 50.4 percent of all mortgages in October, and Sydney home prices rose 13 percent in January from a year earlier, a Corelogic-RP Data home value index showed.
'Substantial Risk'
"There's a substantial risk that, if interest rates are cut, people will decide to put more of their money into the housing market, thinking it's an easy way to make money," said Craig James, a senior economist at a unit of Commonwealth Bank of Australia. "So we would be concerned about that and too much stimulus is going into the economy. We have lower petrol prices. A lower Australian dollar. There's a lot of stimulus already."
The Australian dollar slumped almost 12 percent in the past three months, the worst performer against the greenback among 16 major currencies tracked by Bloomberg after the Norwegian krone.
China Slows
Iron ore reached the lowest since at least 2009 last week amid signs the bear market that began last year has further to run with China's steel mills curtailing output before a national holiday and major producers including Melbourne-based BHP Billiton Ltd. adding supply.
A Chinese manufacturing gauge unexpectedly signaled contraction in January for the first time in more than two years, an official report on Sunday showed.
Norges Bank in December delivered a surprise rate cut, along with a warning of a 50-50 chance of another cut this year as the economy of western Europe's biggest oil exporter struggles. Brent crude will need to trade above $70 a barrel before pressure on monetary policy abates, Governor Oeystein Olsen said in a December interview.
The drop in energy prices also threatens Australia.
Surpassing Qatar
The first of seven liquefied natural-gas developments began shipments last month, putting the nation on course to surpass Qatar later this decade as the world's biggest exporter of the fuel. Origin Energy Ltd., the Australian company building a natural gas export plant with ConocoPhillips, is looking at deferring proposed oil and gas projects following a decline in crude prices, it said in December.
On the oil price impact for Australia, "while the short-run benefit for the consumer sector is traditionally positive, the on-going weakness in consumer sentiment suggests that households are yet to spend the 'proceeds' of lower petrol prices," said Adam Boyton, Deutsche Bank AG's chief economist in Australia, who on Dec. 2 predicted two cuts this year and expects no change tomorrow. "The longer run implications for Australia of the lower oil price are negative in our view, reflecting Australia's position as a major energy exporter."
Before it's here, it's on the Bloomberg Terminal.
LEARN MORE