North Korea Says U.S. Rejected Invitation for Talks in Pyongyang
Cynthia Kim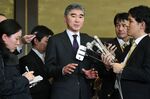 The U.S. government rejected an invitation for a senior official to visit Pyongyang for direct talks with the Kim Jong Un regime, North Korea said.
North Korea invited Sung Kim, special representative for North Korea policy, to Pyongyang during his trip to Asia last month, the official Korean National News Agency reported, citing an unidentified spokesman for the Foreign Ministry. The talks didn't take place because the U.S. refuses to engage in dialogue unless North Korea first agrees to give up its nuclear program, KCNA said.
Sung Kim "insisted on the stance that the DPRK should first take its sincere attitude toward denuclearization if dialogue is to start," KCNA said, referring to the country by the acronym for the Democratic People's Republic of Korea.
KCNA also criticized U.S. President Barack Obama for saying that the North Korean system would eventually collapse.
"It is preposterous and a height of American-style shamelessness and hypocrisy to claim that the U.S. keeps the door of dialogue with the DPRK open," KCNA said.
Before it's here, it's on the Bloomberg Terminal.
LEARN MORE