Elizabeth G. Nabel Rejects NFL, to Remain at Brigham and Women's
Scott Soshnick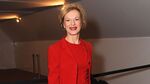 Elizabeth G. Nabel rejected the National Football League's chief medical officer post and will remain as president of Brigham and Women's Hospital in Boston.
Nabel in an e-mail to hospital staff said she has been in talks with NFL Commissioner Roger Goodell about how she might serve in an advisory capacity.
"I want to assure you that I have no intention of leaving our beloved Brigham" she said in the e-mail. "Any advisory role that I may play is subject to review through the Partners process for evaluating outside activities and would not detract from my responsibilities to the Brigham, Partners or Harvard Medical School."
Contents of the e-mail were confirmed by hospital spokeswoman Michelle Cerulli, who said Nabel wasn't available to comment.
NFL spokesman Brian McCarthy declined to comment.
Two people with direct knowledge of the situation had said Nabel would be named chief medical officer. The league had intended to introduce her on Tuesday, one of the people said.
Goodell during his Jan. 30 state of the league address said the most-watched U.S. sports league would create the chief medical officer position as part of the NFL's commitment to making the game safer.
The league is seeking to bolster its oversight of player safety as awareness grows of the dangers of concussions, with doctors tying neurological damage, dementia and early death in athletes to repetitive head injuries.
In July, a U.S. district judge gave preliminary approval to a head injury settlement in which the NFL would pay at least $675 million to retired players who suffer from a list of qualified injuries including Alzheimer's, Parkinson's disease and amyotrophic lateral sclerosis, or ALS.
Fewer Concussions
In his address, Goodell said since 2012, concussions in regular-season games have dropped to 111 from 173.
"There's more to do on player health and safety," Goodell said. "Carefully reviewing and approving our concussion protocols will be a focus of our medical committees this offseason."
Nabel is scheduled to meet with Brigham and Women's Hospital officials Monday, according to one of the people. The doctor, according to the hospital website, has served as president of Harvard-affiliated Brigham and Women's Hospital since 2010. A cardiologist and distinguished biomedical researcher, Nabel is a professor at Harvard Medical School.
Before it's here, it's on the Bloomberg Terminal.
LEARN MORE