Merkel Said to Avoid Meeting Tsipras, Doubt Tax Plans
Arne Delfs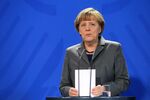 German Chancellor Angela Merkel wants to avoid being drawn into a direct confrontation with Greek Premier Alexis Tsipras and is unlikely to agree to a bilateral meeting with him at a European Union summit next week, a German government official said.
The chancellor's goal is to show Tsipras that he is isolated in Europe, according to the official, who asked not to be named because the discussions are private. What's more, she sees little room for maneuver to provide further support for Greece and is skeptical about Tsipras's claims that he can raise revenue by cutting corruption and increasing taxes on the rich, the official added.
Tsipras, who was elected Jan. 25 promising to cut debt and increase spending, is visiting Cyprus on Monday before trips to Rome, Paris and Brussels. He's not scheduled to see Merkel, the biggest contributor to Greece's financial rescue, until the gathering of EU leaders Feb. 12. Underscoring the tense relationship, Tsipras's first official action after assuming office was paying tribute to victims of Nazi occupation.
On both sides, the public message is one of goodwill.
Tsipras is "a welcome interlocutor" and Germany is interested in "friendly contacts," government spokeswoman Christiane Wirtz said Monday in Berlin. While a one-on-one meeting between Merkel and Tsipras at the EU summit isn't ruled out, "the German government will surely stick to its basic positions on the euro question," she told reporters.
Berlin Trip
German Finance Minister Wolfgang Schaeuble and Yanis Varoufakis, his Greek counterpart, have agreed to meet in Berlin, probably "in the days ahead," German Finance Ministry spokeswoman Marianne Kothe told reporters.
In Athens, "the Greek government wishes cooperation and contacts with all EU governments and all EU institutions," spokesman Gabriel Sakellaridis said in a text message. "In the same context it wishes to have cooperation and contacts with the German government and we are certain that there's also a mutual will from their side."
Tsipras will need to mend relations with Germany after an election campaign in which he often identified the austerity policies that amplified Greece's recession with Merkel.
Cat-and-Mouse Game
"There's certainly ground for a compromise to be reached," said Aristides Hatzis, an associate professor of law and economics at the University of Athens. "But with so much hanging on the negotiations, this game of cat and mouse, and too much strategizing, could in the end get in the way of an agreement."
Varoufakis said Friday that Greece won't cooperate with the so-called troika of creditors and seek to extend its bailout deal, setting the government on course to enter March without a financial backstop for the first time in five years.
That clashes with Merkel's government, which sees "no reason to abandon this proven mechanism," according to Wirtz.
"It'll be interesting to see how things pan out," Gabriel Sterne, head of global macro investor services at Oxford Economics Ltd., said in a Bloomberg Television interview. "In the end I think they'll reach an agreement, it might just not be in time."
Before it's here, it's on the Bloomberg Terminal.
LEARN MORE