Carney Managing U.K. Markets Stirs Specter of Bond Pain
Scott Hamilton and Jennifer Ryan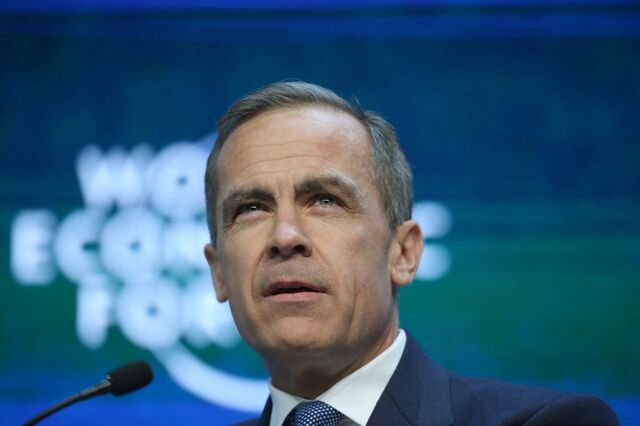 Bond investors may need to prepare themselves for another market whiplash from Mark Carney.
Traders have pushed out bets on a rate increase to well into 2016, leaving them vulnerable to a potential signal from the Bank of England governor that they've gone too far, according to Goldman Sachs Group Inc. and UBS AG. While plunging oil prices are lowering near-term inflation, the stimulus from cheaper energy could prompt policy makers to forecast that price growth will get back to target faster than previously expected.
The Monetary Policy Committee will publish its new projections on Feb. 12, a year after Carney scrapped the forward guidance strategy that was intended to provided certainty on the outlook. Another push back against market expectations could revive talk about the governor whipsawing investors, a shadow that's hung over his tenure after conflicting signals last year saw him labeled an "unreliable boyfriend."
"Markets have just gone a bit too far in expecting rates to be on hold for another 18 months," said Sam Tombs, an economist at Capital Economics Ltd. in London. "There's perhaps potential for a bit of a snap back if the inflation forecast does show the target being reached a bit earlier."
The MPC met with economists and other officials last week to discuss the latest developments and will announce its next policy decision on Thursday. All 47 economists in a Bloomberg survey expect the key rate to remain at a record-low 0.5 percent, where it's been for almost six years.
Tread Carefully
Carney may need to tread carefully on how he responds to the changed rate expectations at the Inflation Report press conference a week later. In June, he was accused of indulging in "smoke and mirrors" by lawmakers after first saying that rates could rise earlier than investors expected, then backtracking two weeks later with comments that there may be more spare capacity in the labor market than previously thought.
When the committee meets to consider its stance this week, it'll have to assess the longer-term effect on the U.K. of cheaper oil, record-low gilt yields, a recovering labor market and $1.2 trillion of European Central Bank stimulus being pumped into the euro area, Britain's biggest trading partner.
Weighing against those are downside risks to growth from a slowing global economy and political uncertainty surrounding the May 7 general election.
The impact of the oil-price decline was captured in a report today showing the biggest drop in manufacturers' costs in almost six years in January. The survey from Markit Economics also said factory growth strengthened last month.
Changing Views
Since the BOE's last forecasts in November, investors have pushed back calls for the first increase as the inflation rate plunged and two MPC members dropped their call for policy tightening. Economists have also revised their predictions, though not so far, settling on the third quarter of this year, according to a Bloomberg survey published Jan. 20.
In a client note published Thursday, Credit Suisse Group AG strategist Daniela Russell urged investors to sell the short sterling future expiring in June 2016 at 99.07. The contract was at 99.09 on Monday, an implied yield of 0.91 percent.
Russell expects the BOE to forecast inflation slightly above target at its three-year horizon, "thereby signaling that market pricing has gone too far." That's a view shared by Michael Saunders at Citigroup Inc., who also said the rate-increase timing may have been pushed "too far."
Negative Rate
Carney said last week that inflation, currently at 0.5 percent, would slow further and likely turn "slightly negative" for a period. His comments came after policy makers said in the minutes of their meeting last month that there's a "roughly even chance" prices will fall during the first half.
While inflation is well below the BOE's 2 percent target, policy makers have said they'll look through temporary deviations caused by external forces.
The prospects for weaker price growth have sent 10-year gilt yields past their previous all-time low, reached in 2012 at the height of the euro-area crisis. The yield on 30-year gilts, among those most sensitive to the outlook for inflation due to the long maturity of the debt, last week touched 2.04 percent, the least since Bloomberg began compiling the data in 1996.
U.K. government bonds fell today as Markit's manufacturing report showed a pickup in industry at the start of the year. The yield on the 30-year gilt rose 1 basis point to 2.05 percent.
Philip Shaw, an economist at Investec Securities in London, said the level of demand is pushing down the short end of the yield curve and is "no longer an accurate representation of where 'true' market expectations are."
"From an economist's perspective we would tend to question whether the shift in rate expectations in the U.K. has now gone too far, or at least is vulnerable to news flow," UBS analysts David Tinsley and Joakim Tiberg said in a note dated Jan. 30. "Once some of the short-term risks, such as the general election, are navigated, we believe there must be a chance that Governor Carney will need to execute another tilt in language, back towards a less dovish direction."
Before it's here, it's on the Bloomberg Terminal.
LEARN MORE