Al Khaleej Has 1.5 Million Tons of Sugar Amid Oversupply
Claudia Carpenter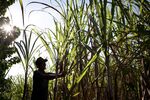 Al Khaleej Sugar Co., the Dubai-based refiner, has enough supply on hand to meet demand for most of this year amid signs that global oversupply will cap price gains this year.
Al Khaleej has 1.5 million metric tons of sugar stockpiled at or in transit to its refinery in Dubai, Managing Director Jamal Al-Ghurair said in an interview at the Platts Kingsman sugar conference in the Persian Gulf emirate. The plant is operating at 60 percent of capacity, he said.
"There is a lot of supply," and inventories are "near a record," Al-Ghurair said Sunday. "We're getting shipments all the time."
Sugar surpluses have prevailed for most of the past five years, causing futures to fall 59 percent from a 30-year high in 2011. Supply will fall short of demand by 122,000 tons for the 2014-15 season that started Oct. 1, after a surplus of 5.6 million tons a year earlier, Platts Kingsman said yesterday.
Raw sugar futures dropped 0.3 percent to 14.74 cents a pound at 12:34 p.m. Dubai time on ICE Futures U.S. in New York. Prices probably won't trade any more than 2 cents up or down for the rest of the year as oversupply will limit gains and buyers will keep prices from falling too low, Al-Ghurair said.
Prices decreased almost 12 percent last year as the global glut pushed prices to the lowest since 2008.
Shortage Forecast
Global sugar production will drop to 177.1 million tons in 2015-2016 from 179.1 million tons a year earlier, according to Platts Kingsman. Consumption will advance 1.7 percent to 182.3 million tons, below the 10-year average of 2 percent, partly because low crude prices will curb demand for imports by some oil producers, Claudiu Covrig, a Platts Kingsman analyst, said on Saturday. That would leave the biggest shortage in six years, at 5.2 million tons, according to Covrig in a report.
Low oil prices have had "no effect" on demand at Al Khaleej, Al-Ghurair said. Brent crude has tumbled 51 percent in the past year amid a global supply glut.
Al Khaleej is ready to consider buying more sugar from India, Al-Ghurair said. About 80 percent of its raw sugar comes from Brazil, the world's biggest supplier, he said.
India is said to be considering an export subsidy of 4,000 rupees ($65) a ton on raw sugar, according to two government officials on Jan. 27 who asked not to be identified because the proposal is confidential.
"We are waiting for India," Al-Ghurair said. "It all depends on the price."
Before it's here, it's on the Bloomberg Terminal.
LEARN MORE