Your Week in Gaffes, Deja Vu Edition
You pump up the jams, and we'll re-pump them.
By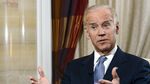 I'm always on the lookout for case studies in how the outrage/must-click industry works, and today provided a good one. In the afternoon, many conservative Internet denizens clicked and shared a Weekly Standard story, by Clinton, Inc. author Daniel Halper, about remarks Vice President Biden had made at the House Democrats' retreat in Philadelphia. "To state the obvious," said Biden, "the past six years have been really, really hard for this country." The unspoken gaffe: As Biden had been vice president for those years, he was accidentally trashing himself. Video of the gaffe was provided by the RNC.