business
OSCE Urges Maximum Effort to End Ukraine Conflict as Talks Fail
Daryna Krasnolutska and Gordana Filipovic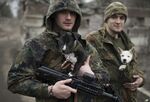 International monitors in Ukraine urged the warring sides in the east of the country to implement peace accords even after talks failed to secure a truce.
Representatives of the self-proclaimed Donetsk and Luhansk republics at Saturday's negotiations called for September's Minsk agreements to be revised and were "not even prepared to discuss" a cease-fire, the Organization for Security and Cooperation in Europe said in a statement.
Fighting between government forces and rebels in Ukraine's Donetsk region has intensified, hardening the worst standoff between Russia and the U.S. and Europe since the Cold War. The meeting between members of the contact group of Ukraine, Russia and the OSCE ended after three hours Saturday without separatist leaders Alexander Zakharchenko and Igor Plotnitskiy attending.
"We continue our work to reach a new plan as soon as possible, which is not exactly new but represents an implementation of the Minsk agreement," Ivica Dacic, Serbia's foreign minister and OSCE chairman-in-office, told reporters in Belgrade on Sunday. A "maximum effort is being invested on the ground to ensure a cease-fire, withdrawal of heavy artillery, respect for the established demarcation line," he said.
Ukrainian, Russian and OSCE representatives had agreed on a document for discussion in Minsk that included "concrete steps" for a truce, the withdrawal of heavy weaponry, supply of humanitarian aid and the release of prisoners, the OSCE said late Friday.
Casualties Rise
Thirteen servicemen were killed and 20 wounded in the past 24 hours, Volodymyr Polevyi, a spokesman for the Ukraine military, said in Kiev today. At least 5,000 people have lost their lives in the conflict since April, with Jan. 13-21 becoming "the most deadly period" since the Sept. 5 truce was signed, according to the United Nations.
The Ukrainian military controls Debaltseve and surrounding roads, while emergency services evacuated 1,000 people from the Donetsk region town on Saturday, Polevyi said. The situation remains tense in the combat area with rebels using tanks, artillery and multiple-launch rocket systems, he said.
A total of three civilians were killed and 19 wounded in Donetsk in the past 24 hours, the separatist-run DAN news service reported, citing the self-proclaimed republic's defense ministry.
Sanction Threat
The U.S. and European Union have threatened to expand sanctions against Russia for its role in the tensions, adding to restrictions imposed since the March annexation of Crimea and the downing of a Malaysian airliner over Donetsk in July. Russia denies military involvement and blames Ukraine for the conflict.
Russian President Vladimir Putin discussed Ukraine with German Chancellor Angela Merkel and French President Francois Hollande by phone Saturday, the Kremlin said in an e-mailed statement.
U.S. Secretary of State John Kerry will travel to Kiev Feb. 5 to talk with officials including Ukraine's president, Petro Poroshenko, State Department spokeswoman Jen Psaki told reporters in Washington on Friday. Kerry plans to meet with Russian Foreign Minister Sergei Lavrov at a security conference in Munich from Feb. 6-8, she said.
Before it's here, it's on the Bloomberg Terminal.
LEARN MORE