Oil Workers Issue Strike Notices After Rejecting 4 Offers
Lynn Doan and Barbara Powell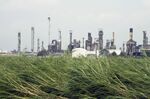 The United Steelworkers union, representing workers at about two-thirds of U.S. oil refineries, is issuing strike notices after rejecting a fourth contract proposed by Royal Dutch Shell Plc on behalf of energy companies.
The steelworkers' national agreement with Shell, Exxon Mobil Corp. and other refiners expires Sunday. The union hasn't called a strike and is notifying local management "so preparations can be made" should one occur, union spokeswoman Lynne Hancock said Saturday. The USW described Shell's latest proposal in a telephone message as "insulting" and instructed all local units to reject it.
Union leaders and Shell have been meeting since Jan. 21 to reach a new three-year agreement. A nationwide strike would threaten to halt as much as 63 percent of U.S. fuel production and slow operations at more than 200 U.S. refineries, terminals, pipelines and chemical plants.
"Negotiations continue with USW with the intent of reaching a mutually satisfactory agreement prior to contract expiration," Ray Fisher, a spokesman for The Hague-based Shell, said in an e-mail on Saturday.
Shell's fourth contract proposal was rejected as the two sides remain far apart, according to two people familiar with the talks, who asked not to be identified because the information isn't public. The union and Shell have the choice of extending negotiations past the current contract's expiration.
Exxon Notified
Shell and its Motiva Enterprises LLC joint venture haven't received strike notices at their refineries, Fisher said. Exxon, based in Irving, Texas, has received one at its 344,600 barrel-a-day Beaumont refinery in Texas. Hancock said by telephone from Nashville, Tennessee, that she didn't immediately know whether other refineries have received notices.
"This action was initiated by the union, and we do not believe it is in the best interest of our local employees," Todd Spitler, an Exxon spokesman in Beaumont, said Saturday in an e-mail.
Spokesmen for Tesoro Corp., a San Antonio-based company with most of the refining capacity in the western U.S., and Houston-based Phillips 66 said their companies haven't received strike notices.
Before it's here, it's on the Bloomberg Terminal.
LEARN MORE