Natural Gas Traders Triple Bearish Bets as Winter Prices Tumble
Naureen S. Malik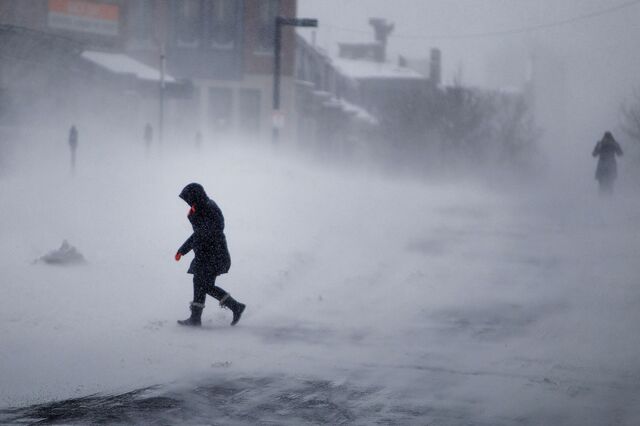 Hedge funds tripled their bearish bets on natural gas, encouraged by the biggest winter price slump in three years.
Money managers increased their net-short position across four benchmark contracts to the most since November 2011 in the week ended Jan. 27, U.S. Commodity Futures Trading Commission data show. Speculators have been short gas for five weeks.
Gas prices have slumped 31 percent since the end of October to a 29-month low Jan. 30 as traders looked beyond a blizzard that dumped snow on Boston to rising production that may turn a U.S. stockpile deficit into a surplus by the time the heating season ends in March.
"You would think that with all the snow and the cold weather you would have seen a bigger price response, but the fact that you saw it go down shows the market is secure about the supply in place," said Jason Schenker, president of Prestige Economics LLC in Austin, Texas, who was the ranked no. 1 by Bloomberg for his fourth-quarter gas price forecast, said in a Jan. 29 phone interview.
Natural gas rose 15 cents, or 5.3 percent, to $2.981 per million British thermal units on the New York Mercantile Exchange during the period covered by the report before closing at $2.691 Friday, the lowest since Sept. 7, 2012.
Gas futures during the current heating season are tracking declines three years ago, when growing supplies and a mild winter drove prices to a 10-year low of $1.902 per million Btu in April 2012.
Excess Supply
"We expect 2015 to be yet another year in which supply outpaces demand," Daniel Quigley, a London-based analyst for Goldman Sachs Group Inc., said in a Jan. 27 report. "Similar to 2012, the recent selloff is largely justified by genuine weakness in fundamentals and we don't expect significant upward pressure" through the first half of 2015. Goldman cut its 2015 gas price forecast to $3.10 from $4.
January was on track to be 8.1 percent warmer than the same month last year, though colder than January 2012, based on weather-driven energy demand, Matt Rogers, president of Commodity Weather Group LLC said in an e-mail Jan. 30.
"It seems that even though demand is much stronger than the '11-'12 winter, production/supply is also much higher," Rogers said.
Gas production in the first quarter of 2015 will average 76.51 billion cubic feet a day, up 6.7 percent to from the same period last year and 11 percent higher than the 2012 quarter, the U.S. Energy Information Administration's Jan. 13 Short-Term Energy Outlook showed.
Gas Surplus
Stockpiles are 15 percent higher than they were a year ago, the widest surplus since August 2012.
Continued cold weather is needed "to avert unmanageable end-of-season stock levels," said Teri Viswanath, director of commodities strategy at BNP Paribas SA in New York.
Net-short positions on four U.S. natural gas contracts rose by 26,362 futures equivalents to 38,329. The measure includes an index of four contracts adjusted to futures equivalents: Nymex natural gas futures, Nymex Henry Hub Swap Futures, Nymex ClearPort Henry Hub Penultimate Swaps and the ICE Futures U.S. Henry Hub contract. Henry Hub in Erath, Louisiana is the delivery point for New York futures.
Long-only positions fell 3.8 percent to 320,464 while short positions increased 4 percent to 358,793.
"At this point in the game, the winter is quickly coming to an end on the trading front," Schenker said. "We could see the sub-$2 lows of 2012 unless we see a massive drawdown in supply in the next few weeks."
Before it's here, it's on the Bloomberg Terminal.
LEARN MORE