Japan to Continue Efforts as Talks on Hostage Goto Stall
Donna Abu-Nasr and Isabel Reynolds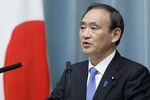 Japan will continue to push for the release of Kenji Goto even as talks with Islamic State are deadlocked, Vice Foreign Minister Yasuhide Nakayama said late Jan. 30 in Amman, Jordan.
Goto's fate remains unknown a day and a half after the militant group's Thursday deadline for the release of a jailed jihadist. Jordan refused to release the woman without proof the Japanese journalist's fellow hostage, Jordanian pilot Moath al-Kasassbeh, is still alive and would be included in any swap.
"Goto's release is top priority and we are asking the Jordanian government for cooperation," Chief Cabinet Secretary Yoshihide Suga said at a press conference in Tokyo on Friday. "We are in contact with them and have mutual trust."
No communication from Islamic State has surfaced since the deadline passed, adding to pressure on the governments in Amman and Tokyo to salvage negotiations to save the two men. Tensions are mounting in both capitals with family members stepping up emotional appeals on behalf of their loved ones.
"My husband and I have two very young daughters. Our baby girl was only three weeks old when Kenji left," Rinko Goto said in a statement to the BBC, her first public comment since Islamic State first threatened to kill her husband on Jan. 20 "I hope our oldest daughter, who is just two, will get to see her father again. I want them both to grow up knowing their father."
Father's Plea
The pilot's father, Safi al-Kasassbeh, said in an interview Thursday night with Arabiya TV he has no information on his son and pleaded with the militants to free him.
Japan's Cabinet was to meet Saturday afternoon in Tokyo to review the latest information on the crisis as the government continues to collect information, Jiji Press reported. Foreign Minister Fumio Kishida was cited by public broadcaster NHK as saying the situation is unpredictable and anything might happen.
In a video released Wednesday a man purporting to be Goto said that Islamic State would kill Kasassbeh "immediately" if Sajida al-Rishawi, a failed suicide bomber on death row, wasn't handed over by sunset Thursday in Mosul, Iraq, and that Goto's execution would follow. That was the second deadline set by the group.
"If Islamic State was just doing this for public relations, to make people afraid, they could have just killed the hostages right away," said Izuru Sugawara, an independent political analyst who has written several books on security and intelligence issues.
"The fact they haven't done this means they want to get al-Rishawi back," Sugawara added. "That's the only reason it has been extended this far."
Jordan Wants Proof
The group demanded that al-Rishawi be transfered to the Turkish border for the swap. Without proof that Kasassbeh is alive, Jordan won't move to free the woman sentenced to death for her role in a deadly 2005 attack on three hotels in Amman, Jordan's Minister of State for Media Affairs Mohammad Momani said shortly before the deadline passed.
The pilot was captured by Islamic State last month when his plane crashed in Syria during a bombing run against the group. Jordan has joined the U.S.-led coalition that is carrying out air strikes against Islamic State.
Before it's here, it's on the Bloomberg Terminal.
LEARN MORE