When Political Frenemies Meet
Is it awkward? Or just business as usual?
By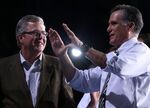 Chelsea Clinton and Marc Mezvinsky are slated to lunch with Mitt and Ann Romney this Friday, which could get a little awkward given that the former Massachusetts governor recently accused Hillary Clinton of  having "cluelessly pressed the reset button on Russia."