Source: Mestizo via Bloomberg
Food
The 11 Best Tacos in London (Or, Good Mexican Food Is Hard to Find)
It took a lot of salsa and margaritas to get me there, but I've found the rare Mexican standouts in this town
By
It's difficult to discover decent Mexican food in London. Even the bad stuff takes some finding.
To save you the effort, I went on safari with Mexican colleagues in a hunt for the city's best tacos. We ordered a plate of pork and beef in each restaurant, along with a drink. The search took two nights. It was a tiring exercise  fueled by hunger at the start and by margaritas at the end. Along the way, we were greeted by some friendly faces and some servers sucking on limes. We ended up singing along to Latin pop songs. Viva Mexico!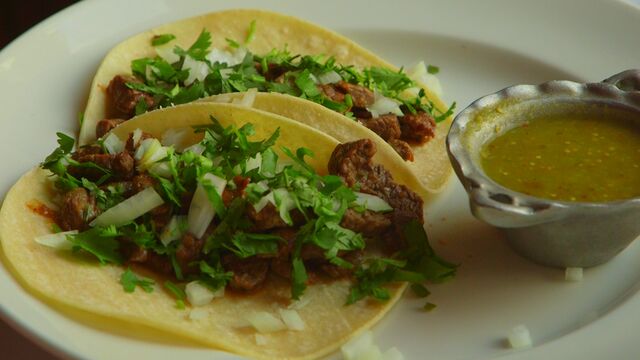 Here's my Top 10 list:
11. Cafe Pacifico
My mistake: I hadn't realized this is a Tex-Mex joint for drinkers that happens to have food. My Mexican colleagues were shocked when the dishes arrived. "This is not Mexican food," was the most measured response. The tacos were oddly rubbery and the fillings lacked flavor. For reasons of delicacy, I shan't describe the refried beans. And yet Café Pacifico is not all bad. It was packed with happy people and the service was friendly—really friendly. In fact, everyone there was so nice, I feel bad criticizing the place. So if you fancy a noisy, lively bar, give it a try. Just eat before you go. The bill: £52.31 ($78.82). Rating: 4.5/10. (5 Langley Street, Covent Garden, WC2H 9JA; +44-20-7379-7728 or cafe-pacifico.com.)
10. Crazy Homies
This cramped and crowded venue in Westbourne Park is popular with the locals—a very good-looking crowd. It's quite charming in its way. I'd consider hanging out there, especially if I wanted to listen to reggae. The tequila served in the margaritas was Cabrito, which left my colleagues unimpressed, although the strawberry version with fresh fruit was delicious. The tortillas were cold and appeared home-made (though not by a Mexican). The fillings lacked flavor, apart from a whack of pepper. And yet I quite like the place. The bill: About £43.25. Rating: 5/10. (125 Westbourne Park Road W2 5QL; +44-20-7727-6771 or http://www.crazyhomieslondon.co.uk/.)
9. Santo
This Portobello Road joint was packed on a Friday night: overcrowded and understaffed. Still, the customers looked happy enough; there is definitely a buzz. Service was uneven: One harried waitress rolled her eyes and walked away when we hesitated in ordering. Another was sweet. The tortillas were cold and appeared machine-made. The carnitas pork tacos were certainly top tier, but the ox-cheek tacos had less flavor. Santo is popular and not bad, but I wouldn't go back in a hurry: That combination of uneven service and food makes you dizzy, even before a margarita. The bill: £47.81. Rating: 5.5/10. (299 Portobello Road, Notting Hill, W10 5TD; +44-20-8968-459 or santolondres.com)

8. Mezcal Cantina
This is a cheap and cheerful place with a real Mexican feel, from the music through the murals to the altar with a statue of the Virgin of Guadalupe. It's definitely a place to go hang out with a student crowd and get stuck into beers and margaritas. You get two tortillas with each taco—the Mexican way—and the service is friendly. The tacos are hardly gourmet and the sauces are on the table in bottles. But Mezcal is fun and well worth a visit. The bill: £31 plus tip. Score: 6/10. (127 Kingsland High Street, E8 2PB; +44-20-7254-1177.)
7. Boho Mexica
This is a dark and moody venue where you are more likely to go for a date and drinks than for fine food. While you might hope for a friendly welcome in a Mexican restaurant, the service here was a bit surly. The ambience is generic Latin. But the cochinita pibil were spicy and juicy, with just the right balance of fat. They were among the best we tried. The Carne DF ones were dry and less interesting. The tacos are served without salsa—and when we requested habanero, we were charged £1.50 extra. Still, the sauce was freshly made, unlike the bottled variety served elsewhere. The bill: £43.82. Score: 6.5/10. (153 Commercial Street, E1 6BJ; +44-20-7377-8418 or http://www.bohomexica.co.uk/) 
6. Habanera
I've seen Shepherd's Bush on the Tube map. I've never been there to eat before. While the cochinita pork tacos could have used more depth of flavor, they were among the best we tried, and the tortillas were acceptable. The carne asada grilled steak tacos with avocado and salsa verde were on the dry side, but again OK. Habanera is a very acceptable local restaurant. The waiters were friendly, as was the Mexican barman. The Latin music playing had my colleagues singing along happily. The beers—Lager Pacifico or Negra Modelo—were most welcome. I'd definitely go back if I were in the area. The bill: £39.93. Rating: 6.5/10. (280 Uxbridge Road, Shepherd's Bush, W12 7JA; +44-20-8801-4887 or habanera.co.uk.)

5. La Bodega Negra Cafe
This Soho hotspot was packed on a Friday night—so busy we couldn't pay for our drinks, as hard as we tried. The staffers were friendly and the atmosphere was lively. I'd happily go back and then pay what I owe. The tacos weren't bad, although the tortillas were cold and the fillings needed bottled sauces for flavor. You'd go for the buzz and stay for the drinks and the food—if you weren't too obsessive about authenticity. The bill: I estimate £44.44 pounds. Rating: 7/10. (16 Moor Street, Soho, W1D 5NH; +44-20-7758-4100 or labodeganegra.com.)

4. Peyote
This is a posh restaurant in Mayfair, one of the most expensive areas of London. The entrance is like a nightclub, with a doorman and dark curtains. The lighting is dim, the artifacts expensive, and the Talavera pottery wash-basins are so beautiful that a visit to the washrooms is a must. The chef is Greek and our waiter was French, but he was very knowledgeable about the food, which was beautifully presented. The tortillas were hand-made. The pibil tacos were a little dry and underpowered, but not bad. The short rib variety was among the best we tasted. You pay for the location and ambience. The bill: £68.10. Rating: 7.5/10. (13-14 Cork Street, Mayfair, W1S 3NS; +44-20-7409-1300 or peyoterestaurant.com.)

3. Wahaca
Some purists criticize Wahaca. Ignore them. The friendly service, fun ambience, low prices, and vibrant food make it a winner. Chef-owner Thomasina Miers has done more than anyone to popularize Mexican food in the U.K., and her pork pibil is one of my favorite dishes. I always order it for the complex spicing. Having said that, my Mexican friends were disappointed by the tortillas, which were cold and fell apart when you picked them up. Still, I noticed that the British steak tacos featured good-quality meat that was correctly grilled. Even better, the prices are among the lowest in London. The bill: £31.05. Rating: 8/10. (66 Chandos Place, Covent Garden, C2N 4HG; +44-20-7240-1883 or wahaca.co.uk.)
2. Lupita East
If you are looking for authentic and inexpensive Mexican food, this is the real deal. Lupita East attracts a young Mexican crowd with unfussy food and friendly service in a room where no money has been wasted on decoration. The tortillas are traditionally prepared (via nixtamalization) and if you require a plate of limes, they're served without fuss. There are regional dishes on the menu, too, such as Atun Mazatlan. The arrachera tacos are classic, though a bit dry; the cochinita pibil (pork) options are colorful and full of flavor. The bill: £39.99. Rating: 8.5/10. (60-62 Commercial Street, E1 6LT; +44-20-3141-6000 or lupita.co.uk)
1. Mestizo 

This low-key restaurant—in a part of town where restaurants are thin on the ground—is where the Mexicans eat. It's almost like a club for the community. While the tortillas look machine-made, the tacos are generously filled with chunks of meat that are strong on flavor. They are so loaded, they can be difficult to pick up, but who cares? The arrachera (beef) tacos are good and come with a green tomatillo salsa; the cochinita pibil are outstanding; you can even taste the orange juice and the other individual ingredients. Service is friendly and efficient. The bill: £39.90 plus tip. Rating: 9/10. (130 Hampstead Road, Marylebone, NW1 3EL; +44-20-7387-4064 or mestizomx.com)
(Taqueria restaurant in Notting Hill was closed for refurbishment at the time of writing.)
(Richard Vines is the chief food critic for Bloomberg. Follow him on Twitter @richardvines)
Before it's here, it's on the Bloomberg Terminal.
LEARN MORE