Spain Defies Deflation as Economy Expands Most Since 2007
Maria Tadeo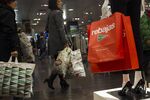 Spain's economy expanded at its fastest pace in seven years in the fourth quarter, defying the threat of deflation as lower prices helped boost domestic demand.
Gross domestic product rose 0.7 percent from the previous quarter, and 2 percent from a year earlier, the National Statistics Institute said in a preliminary report Friday in Madrid. That's higher than the Bank of Spain's estimates for 0.6 percent and 1.9 percent.
The Spanish economy has grown for six straight quarters and is forecast to outpace the euro-area average this year. Still, falling prices remain a risk for Spain and the currency region. Prices in 19-nation bloc fell an annual 0.6 percent in January, matching the biggest decline since the euro was introduced in 1999, according to data published Friday.
"The Spanish economy is in a catching-up process, but definitely moving in the right direction," said Jacques Cailloux, chief European economist at Nomura International in London. "The decline in oil prices is helping consumer spending in Spain, but this is a one-off. The medium term outlook for wage growth and income generation remains the weak spot."
In Spain, consumer prices on an EU-harmonized basis fell 1.5 percent in January from a year earlier, the most since 1997, when Bloomberg started collecting the data. That was in line with the median forecast in a Bloomberg News survey.
Growth Forecasts
While the risk remains of deflation, or a spiral of falling prices and wages that causes households to postpone spending, Spaniards are currently capitalizing on lower prices to make more purchases as the country emerges from a seven-year slump.
Retail sales rose the most in more than a decade in December, with department-store sales jumping 6.9 percent over the holidays as plunging oil prices and Christmas promotions lured shoppers in. Small chain stores recorded sales growth of 4.5 percent from a year earlier.
The economy probably grew 1.4 percent last year, according to an estimate from the statistics office. The government expects it to expand 2 percent this year, and has signaled there is scope to increase the forecast in its April review.
Prime Minister Mariano Rajoy is relying on a mix of stronger growth, falling unemployment and lower taxes for re-election when his four-year term expires this year.
He's facing an uphill battle following a series of corruption scandals involving top officials of his conservative People's Party and the rise of Podemos, an anti-austerity party led by university professor Pablo Iglesias.
The 36-year-old rose to fame as a commentator on Spanish television and is an outspoken supporter of newly elected Greek Prime Minister Alexis Tsipras, who was elected on an anti-austerity platform. Iglesias has repeatedly called on Spaniards to follow Greece's example.
"Podemos is doing very well at the polls, but whoever wins will have to make tough fiscal choices to get the deficit down," said Tom Rogers of Oxford Economics Ltd. "Government spending is already tight for 2015, cutting taxes will come at the expense of hitting those targets."
Before it's here, it's on the Bloomberg Terminal.
LEARN MORE