South Africa Apartheid-Era Assassin 'Prime Evil' Gets Parole
Mike Cohen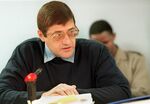 Eugene de Kock, an apartheid-era assassin known as "Prime Evil," was granted parole after spending almost 20 years in jail.
"In the interest of nation building and reconciliation, I have decided to place Mr De Kock on parole," Justice Minister Michael Masutha told reporters on Friday in the capital, Pretoria. De Kock, 66, provided investigators with information to track down the bodies of people who went missing under apartheid, he said.
De Kock ran a covert hit squad known as C1, or Vlakplaas, that targeted opponents of white minority rule, which ended in 1994. He was jailed in 1996 for two life terms and 212 years for murder and other crimes.
"Eugene de Kock has accepted responsibility in many ways for his crimes, including naming other people involved and pointing out where the remains of people were buried," Mike Batley, a social worker who advises the Restorative Justice Center, said by phone from Pretoria. "There are many signs that he has shown remorse. The statements he has made and his attitude generally suggest he won't pose much of a risk to society."
In television interviews while in prison, De Kock accused senior apartheid-era politicians of allowing their foot soldiers to take the blame for crimes they had ordered.
Masutha acceded to a request by De Kock not to make the date and conditions of his release public.
Hani Murder
Clive Derby-Lewis, who was convicted for his role in the 1993 killing of South African Communist Party leader Chris Hani, was denied medical parole, Masutha said. Derby-Lewis, provided the gun used by Polish national Janusz Walus to shoot Hani in a killing that threatened to unleash a civil war in the dying days of apartheid.
The two were convicted of murder and given the death penalty, sentences that were commuted to life imprisonment in 1995 when South Africa abolished capital punishment.
Masutha said he didn't have sufficient information to determine if Derby-Lewis, who has lung cancer, was sick enough to warrant his release and there was no indication that he had shown remorse for his crimes. He also questioned why his medical report was in the name of a different patient.
Hani's family and the South African Communist Party accused Derby-Lewis of failing to fully disclose details of his crimes, and opposed his release.
Political Decision
AfriForum, a lobby group that campaigns for the rights of Afrikaners, said in an e-mail that the decision to deny parole to Derby-Lewis, who was almost 80 years old, was "dictated by politics" and a violation of his human rights.
A parole decision on Ferdi Barnard, an agent for a military intelligence unit known as the Civil Co-operation Bureau who was sentenced in 1998 to two life sentences and 63 years in prison, was delayed. His crimes included the 1989 murder of human rights activist David Webster and the attempted murder of Dullah Omar, a former justice minister.
(An earlier version of this story corrected the name of De Kock's hit squad.)
Before it's here, it's on the Bloomberg Terminal.
LEARN MORE