Popular Anti-Mormon Pastor Joins Huckabee and Santorum For 'Religious Liberty' Movie
Don't call it a comeback for Rev. Robert Jeffress.
By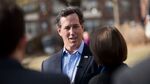 The end of Mitt Romney's short flirtation with a comeback presidential bid means that there will be no Mormon frontrunner in the 2016 field. That's good news for the occasionally noisy pastors who fretted about Romney's faith–people like First Baptist Dallas Pastor Robert Jeffress, who in 2011 told an audience at the annual Values Voter Summit that Romney was "a member of a cult." Jeffress was denounced by many right-thinking people, and condemned by the Southern Poverty Law Center, but he didn't give up on the idea that evangelicals were walking away from the GOP ticket for a practical, dogmatic reason.