Popular Anti-Mormon Pastor Joins Huckabee and Santorum For 'Religious Liberty' Movie
Don't call it a comeback for Rev. Robert Jeffress.
By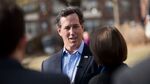 The end of Mitt Romney's short flirtation with a comeback presidential bid means that there will be no Mormon frontrunner in the 2016 field. That's good news for the occasionally noisy pastors who fretted about Romney's faith–people like First Baptist Dallas Pastor Robert Jeffress, who in 2011 told an audience at the annual Values Voter Summit that Romney was "a member of a cult." Jeffress was denounced by many right-thinking people, and condemned by the Southern Poverty Law Center, but he didn't give up on the idea that evangelicals were walking away from the GOP ticket for a practical, dogmatic reason.
And in 2015, he's still a player on the right. The Family Research Council has invited churches to screen (and journalists to watch) a documentary called One Generation Away. The long trailer gives a hint about the content; lots of interviews with believers and skeptics about the threat posed to religious liberty by legislation that mandates family planning coverage, or allows gay marriage.
The invitation to a D.C. screening lists the stars worth watching:
WHO: Tony Perkins, President of Family Research Council

Rick Santorum, Former U.S. Senator

Mike Huckabee, Former Arkansas Governor

Eric Metaxas, author of "Bonhoeffer"

Steve Green, Hobby Lobby President

Dr. Robert Jeffress, Pastor of First Baptist Church Dallas

Todd Starnes, Fox News
That would suggest that two 2016 presidential contenders, Santorum and Huckabee, are sharing a platform with Jeffress. A spokesman for the Family Research Council pushed back, suggesting that only Santorum and Perkins would appear in person for a Q&A. That could spare the candidates from the quicksand the Republican National Committee slipped into this week, after People for the American Way attacked members for joining the American Family Association on a trip to Israel. AFA–a sponsor of the conference where Jeffress made his remarks–ended up removing its biggest star, Bryan Fischer, as spokesman. That didn't change Fischer's status as a radio show host, a job he's used to make the case against Mormonism and the church's surrender against "the homosexual agenda."