Mouton Rothschild $4 Million Sale May Be Bordeaux Revival
Frederik Balfour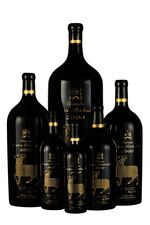 Bordeaux first growths could be poised to reverse an almost 40 percent decline from their 2011 highs, if the results of the Sotheby's auction of Chateau Mouton Rothschild in Hong Kong on Friday are anything to go by.
Strong demand by mainland buyers helped push sales to HK$31.8 million ($4.1 million), according to the data on the auction house's website, smashing a presale high estimate of HK$20 million in a so-called white glove sale, meaning 100 percent of the lots found buyers.
The Bordeaux price slump has been attributed to a plunge in demand from Chinese buyers in the wake of President Xi Jinping's anti-corruption and anti-austerity campaigns. The Liv-ex Fine Wine 50 Index, a closely watched measure based on the 10 most recent vintages of the top five Bordeaux wines known as first growths, is 39 percent off its June 2011 high.
"This sale could resonate to the market that maybe Bordeaux is back," said Jeannie Cho Lee, a Hong Kong-based Master of Wine. "It's a barometer for people's mood for fine wine."
The auction's wines, some dating back more than 140 years, have remained in the chateau's cellars since bottling, ensuring that they came with an impeccable provenance, the No. 1 concern among collectors wary of the vast number of fake bottles of top Bordeaux wines circulating in China.
Philippe Sereys de Rothschild, chairman of the supervisory board of the family-owned company Baron Philippe de Rothschild SA, said that in recent years prices had risen too high then fallen too far and a turnaround might be in the offing.
Market 'Overreacted'
"Like all markets, this one overreacted on the way up and it overreacted on the way down," he said in a salesroom interview. "The market is putting Mouton where it should be, which is 30 percent above high estimates. We are going in the right direction."
The top lot contained vintages spanning the years 1945-2012 (excluding 1958 and 1963) that fetched HK$2.94 million against a high estimate of HK$2 million.
The only other time Mouton Rothschild has sold wines at auction shipped directly from its properties was at Sotheby's in New York in 2007.
The chateau and Sotheby's designed Friday's sale with a mind to appealing to Chinese customers who attach special importance to astrology and auspicious numbers.
Its timing coincides with the approaching Chinese Year of the Sheep, and plays up the chateau's emblematic ram, an English translation of "Mouton."
15-litre Nebuchadnezzar
Another coveted lot was from the 2000 vintage featuring the ram on its label. Consisting of six standard-size bottles, six 1.5-liter magnums, a 5-liter jeroboam, a 6-liter imperial and a 15-liter nebuchadnezzar, it sold for HK$1.7 million, compared with a high estimate of HK$1.2 million.
A lot consisting of five bottles with vintages ending in the lucky number eight (1968-2008) sold for HK$73,500, almost four times its high estimate.
Records were set for both single bottles and magnums of the 1945, considered the finest vintage of last century, fetching HK$367,500 and HK$857,500.
The oldest bottle in the sale from 1870 sold for HK$392,000 more than three times its high estimate, setting a record for that particular vintage.
Part of the sale's proceeds will be used to fund the Baroness Philippine de Rothschild Foundation named after the family matriarch who oversaw the vineyards until her death in August.
"I am very happy with the results but a bit sad too," said her son Philippe. "This is the result of 25 years of work by my mother."
Since 1945, Mouton Rothschild has commissioned artists including Picasso, Jeff Koons, Andy Warhol and Keith Haring to design unique labels for each vintage.
The five Bordeaux first growths include Mouton Rothschild, Chateau Lafite Rothschild, Chateau Margaux, Chateau Haut-Brion and Chateau Latour.
Before it's here, it's on the Bloomberg Terminal.
LEARN MORE