Stop Worrying About Measles at the Super Bowl
Fans should be more wary of hangovers than the highly contagious ailment
by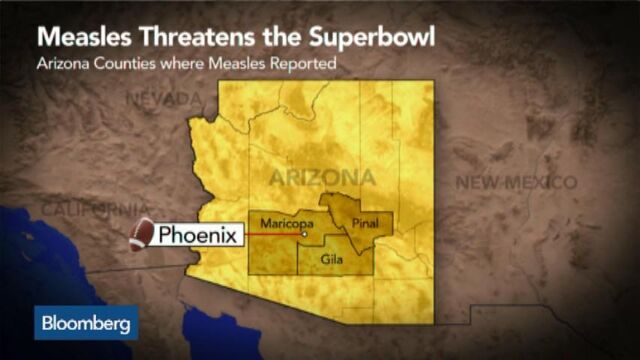 Seven people have been diagnosed with measles in Arizona in the state's first outbreak since 2008, and officials are trying to alert others who may have been exposed as thousands of football fans arrive in Phoenix for the Super Bowl this weekend. The timing has sparked fears that the outbreak traced to Disneyland in December might mushroom among the crowd at the game. Public officials are urging people to get vaccinated and telling potentially exposed children to stay home.
But epidemiologists aren't particularly worried about transmission among the 70,000 fans expected at the game, for a simple reason: Most Super Bowl fans are adults who've been inoculated.
Measles spreads fastest where there are large groups of susceptible children mixing. "Disney was not unexpected," said Michael Osterholm, director of the Center for Infectious Disease Research & Policy at the University of Minnesota. "You wouldn't expect to see a measles outbreak occur in a large political gathering of older people."
So Super Bowl fans can breath easy. Unless, that is, they're passing through airports on the way to the game. While measles is rare in the U.S., about 20 million cases occur worldwide each year. Travelers, including young children, arriving from countries where measles is endemic pose a greater risk than Super Bowl fans, who will predominantly be from the U.S. "It minimizes your problem for the Super Bowl, but it maximizes the problem for everywhere else," Osterholm said. "Imagine today that there are 100 Super Bowls going on," at major airports, theme parks, and wherever children and travelers mingle in large numbers.

After an outbreak at Disneyland in December, the U.S. has recorded 84 cases of the infectious airborne virus so far in January, more than the country typically sees all year. Measles is transmitted through the air, and the virus can linger for hours. Patients are contagious for about eight days, half of that time before they develop the red rash that characterizes the disease. Symptoms can take as long as three weeks to manifest. There are clusters of people who don't vaccinate, which is why concerns are rising about schools and daycare centers in areas with low immunization rates.
The Super Bowl may not be high-risk for measles transmission, but that doesn't mean other pathogens won't take advantage of the event. "Flu could easily spread through a population like that, especially if there's a new strain that hasn't been in that area and hasn't been in that population," said Stephen Morse, an epidemiologist at Columbia's Mailman School of Public Health.
Before it's here, it's on the Bloomberg Terminal.
LEARN MORE